The standard of women about beautiful eyes is to have big round eyes and long, curled eyelashes. Because of this standard, the demand for eyelash extensions of women is also increasing. Therefore, eyelash extensions products on the market are also increasingly diverse and extremely competitive.
How to build a private lash label and the most effective private lash label business? What is the solution for eyelash extension units, beauty parlors, eyelash extensions customers to know and prioritize to choose your personal brand eyelash products? Let's work with us to come up with the most effective business solutions to help your private lash label reach many potential customers and create love from customers!
What is the private label lash?
Private label lash is usually created by a manufacturer, however eyelash products sold are not packaged under the brand name of the manufacturer but instead the name of the seller's private label. It is called "Private Label" because the seller's personal brand will be printed on the labels of various products before reaching the customer. Private label lash products are used for sale at eyelash extensions supply stores, eyelash extensions, beauty salons, or sold on the seller's website and other retail channels. Therefore, private label lash is a way for sellers to sell their own eyelashes and extensions without having to manufacture them themselves.
As shared, the need for beauty and the desire to be beautiful are based on current social norms. For example, big round, sparkling eyes with curved, innocent or seductive eyelashes, etc. Among the countless methods of beautifying the eyes, the method of eyelash extension is probably the most popular among women. Eyelash extensions have a lot of designs, diverse materials, rich colors, showing a lot of eyelash extensions styles that customers want. Therefore, eyelash extensions are very popular with many women of all ages, even men have the need to beautify their eyelashes.
The growing eyelash business has led to a lot of new products, brands and brands blooming. However, it is not easy to create personal brand eyelash products that are recognized and trusted by customers. In order for the beauty community to have a good impression of your eyelash products, create your own personal eyelash brand, start promoting it widely and smartly.
How to build effective private label lashes?
Private label lash is a very interesting and attractive business form in the beauty industry. With the development of the beauty market, the demand for false eyelashes is increasing. However, to find a quality false eyelash product that is safe for health and brings true effectiveness is not easy.
Therefore, private label lash has become the first choice of many consumers. This is a type of false eyelash product manufactured under the own brand name of a company or individual, and distributed by various retailers. Here, the company or individual will give different design, material and specifications requirements to produce the product exactly according to their wishes.
If you're interested in the false eyelash business, private label lash is a great way to get started. By owning a private brand, you will gain uniqueness and distinction from the competition, and create trust and difference with your customers. And most importantly, you can guarantee the quality of your products, because you have full control over the production process and product quality from the manufacturer.
Building private label lash is the way you find and promote the uniqueness and differentiation of your private label lash to customers. Let's refer to the order of setting up a detailed private label lash promotion plan from A-Z right below:
1. False eyelash market research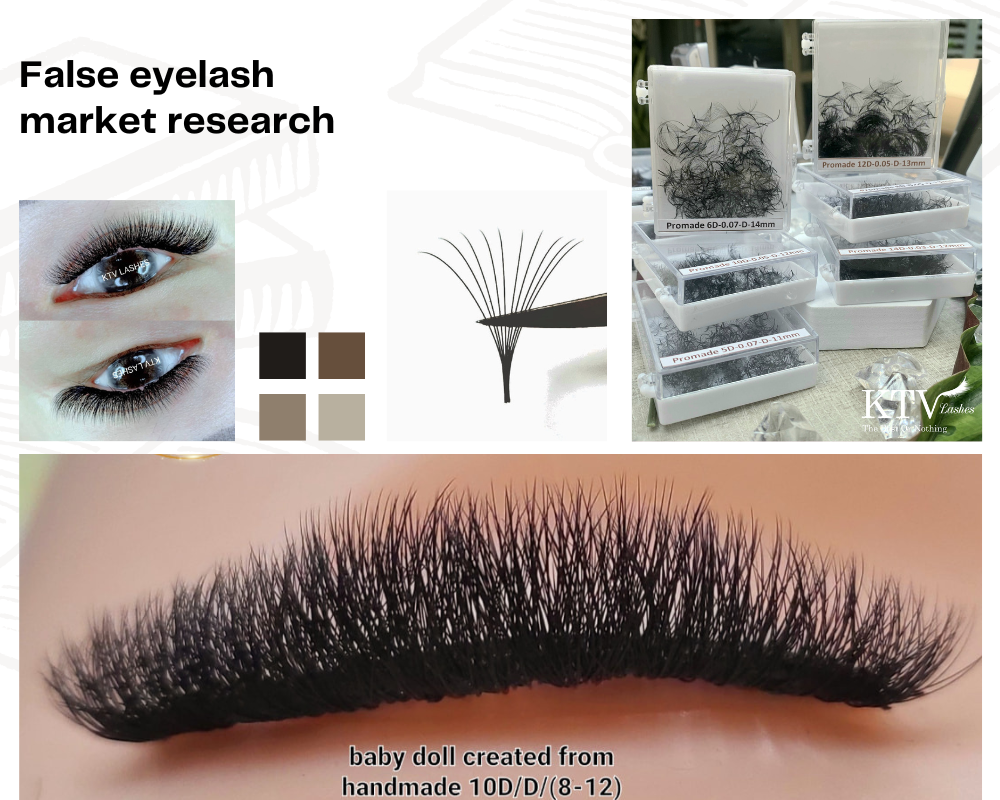 Before embarking on finding manufacturers and building a collection for your eyelash products, it is impossible to skip the stage of researching the market for eyelash production and retail. Let's analyze and synthesize statistics related to the global false eyelash market.
Strong growth of the global false eyelash market
In the past few years, the global cosmetics industry has diversified and developed. Today, women's willingness to spend money on beauty needs has driven the success of many beauty-related businesses. In which, eyelashes are the market showing rapid growth with a CAGR of 7.34% from 2017 to 2023 according to Market Research Future.
The false eyelash market in the world is divided into many segments such as production process, lash style, and also distribution channels. Most especially, the eyelash extension segment is predicted by experts to dominate the false eyelash market in the next few years.
According to research, American countries coming to Europe are extremely fond of eyelash products connected to the following 2 main categories:
Single eyelash extensions are used for eyelash extensions at beauty spas.
Eyelash extensions are manufactured in pre-patterned forms, according to the eyelash extension style that customers want.
Women aged 18-25 have the highest demand for false eyelash products in the United States. Women aged 25 and older account for a total of 38.5% of the false eyelash market share in North America in particular.
2. Value positioning of private label lash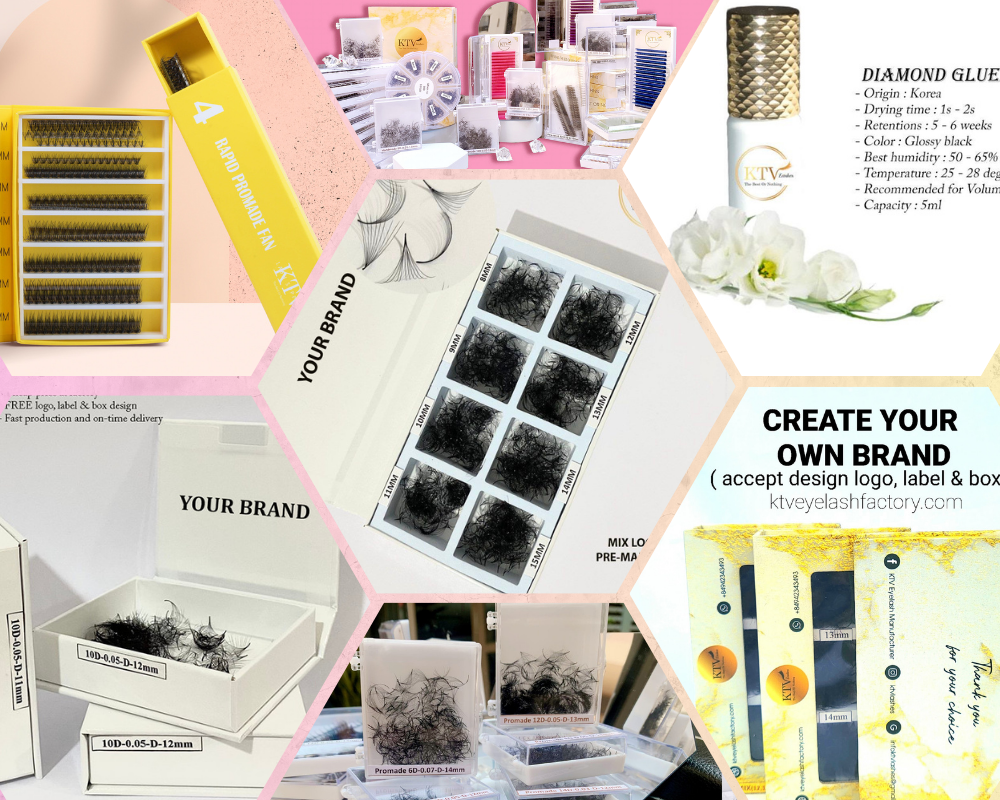 Private label lash positioning plays an important role in the long-term growth of the entire business you launch. Private label lash not only need to be famous but also build credibility and quality in each eyelash product. Conversely, choosing beautiful, good, durable eyelash products from a reliable manufacturer will help your personal eyelash branding step become more perfect.
Revealing to you 2 eyelash product segments that you should do business in the form of private label lash such as:
Choosing a high-end eyelash business
The value of private label lash is what customers want to receive for their money. When this is satisfied, customers will be satisfied and engaged with your private label lash products.
When choosing high-end eyelashes, you will focus on good product quality, constant trend updates, and the design must be luxurious and unique. The customer segment needs to focus on sales marketing in the high-income, affluent group and hit big cities and developed tourist destinations, … Surely your private label lash will have the expected effective business start.
Choose a mid-range eyelash extension business
A mid-range eyelash brand is suitable for moderate income customers, women aged 18-25 years. What needs to be done in this eyelash product segment is mainly to motivate customers to use your private label lash products.
Even if your income is not high, the need for beauty for all women will never decrease. Therefore, when trading mid-range eyelashes, your products need to have a variety of models and types such as: synthetic fiber eyelashes, faux mink eyelashes, eyelashes made from hair, silk eyelashes, … At the same time, the prices of the product must also be rich and there are many incentive programs to attract customers to use your private label lash products more.
3. Design your private label lash identity "unique"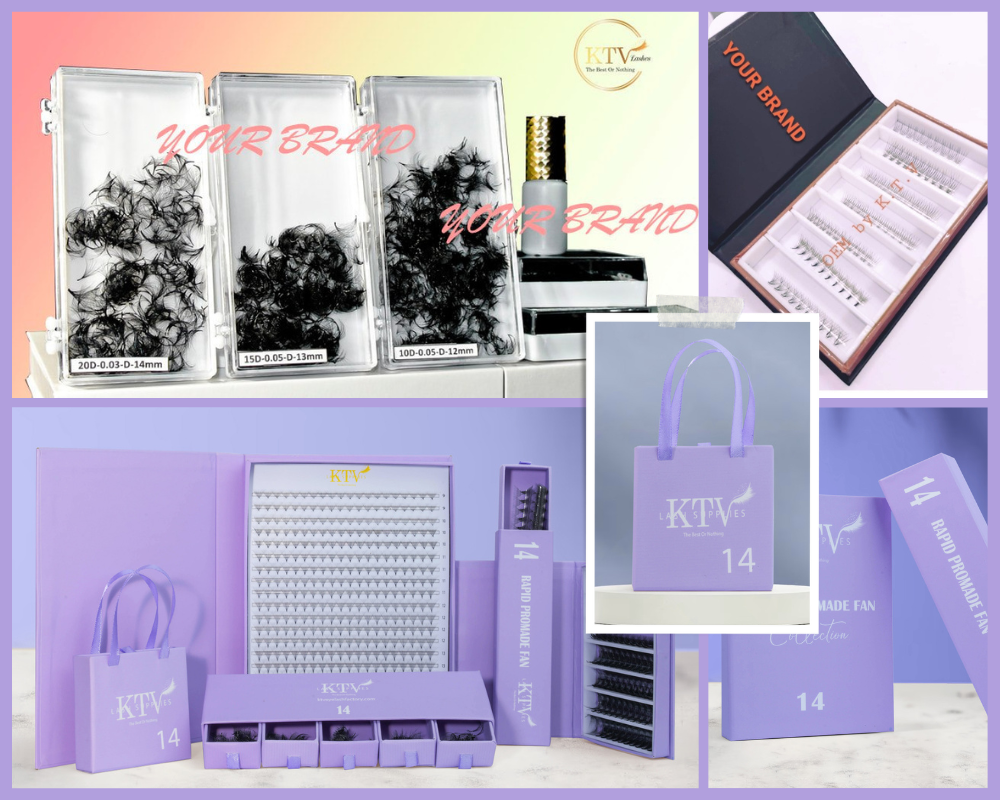 The factor that helps build successful private label lash is to design a brand identity for the entire products that you want to sell to the market.
Your brand image is what customers think of when they mention your name. It includes elements such as logos, colors, design styles, fonts, slogans and communication activities. All of these elements must be compatible and consistent to create a strong and recognizable brand image.
In particular, the logo and color of the private label lash contribute to increase your brand identity and make a strong impression on everyone. For example, the Korean brand Vacosi has changed its brand identity to make it easier for partners, especially customers, to identify when they see their logo anywhere.
4. Communication and promotion of private label lash
Today, taking advantage of the multi-layered development of mass media to promote private label lash, will certainly bring positive effects. Your eyelash brand identity will reach potential customers quickly and widely around the world.
You can use the following internet platforms to promote your private label eyelashes in the most effective way:
Create a website for private label lash: Advertise with Google Adword so that customers can access your eyelash products.
Create Facebook, Instagram pages with your private label lash: run ads to promote your brand
Create an account on Twitter
Create an account on Pinterest
Create an account on YouTube channel
Create an account on LinkedIn
Create an account on Reddit
You can build your private label eyelashes here and share pictures, details about the types of products that you want to sell. The great thing about social networking sites is that advertising uses algorithms that target each group of potential customers you want. So you can spend your budget running ads to collect a series of orders from the internet, helping you do business more effectively with your private label eyelashes.
Maybe you care about the issue: Eyelash Extensions Wholesale
3 principles that you need to know when building personal brand eyelashes
No matter how well and thoroughly prepared you are when starting a private label eyelash wholesale, there will be many unexpected problems. So, follow these 3 guidelines to help you run your private label eyelash business in the smoothest way.
1. Identify your target customers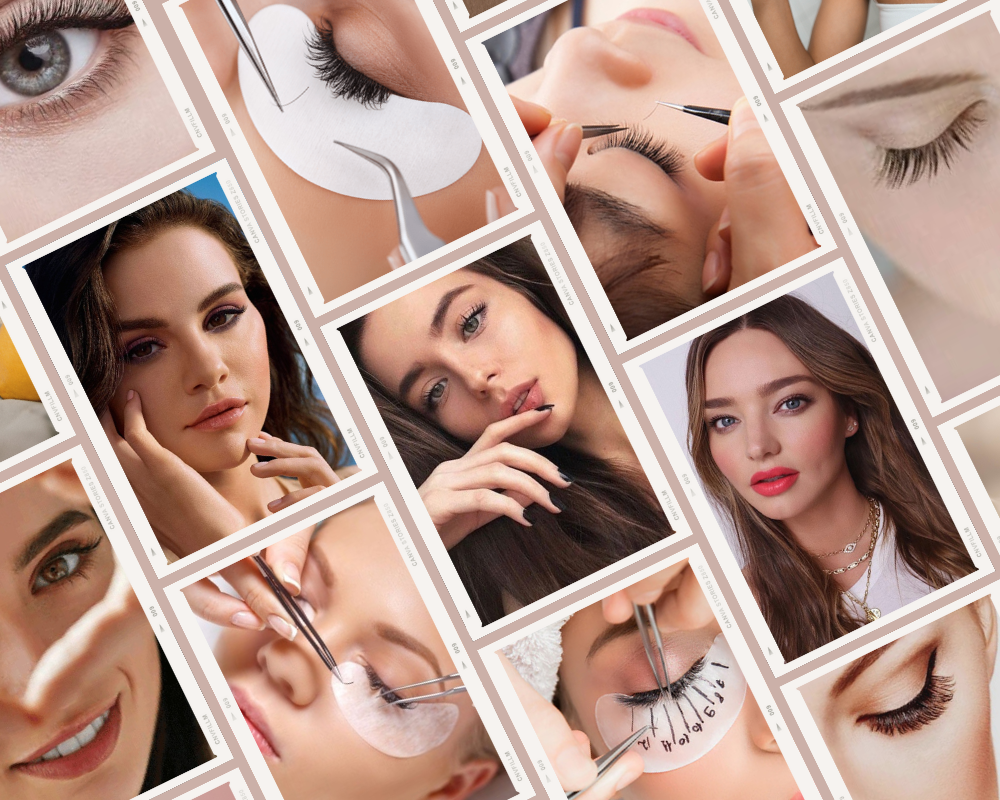 After positioning a high-end or mid-range false eyelash product, you move on to identifying your target customer. Research that needs to be done to know the customer behavior include: What eyelash products do customers prefer? Hate which product? Or what do they want from your private label eyelash? Do they trust your private label eyelash? The age, education, income and occupation of that group of customers,…
2. Create value for customers
The most important thing when building a private label lash is to identify the core value you want to bring to your customers. This core value can be professionalism, prestige, product quality or dedicated service. It's important to come up with a core value that no one can copy.
What value is your private label lash capable of creating for customers? The best way, you should position the use of the product to bring positive benefits to the user.
Such as:
Synthetic eyelashes are cheap and competitive.
Real mink eyelashes are expensive but beautiful, durable and high quality
Magnetic eyelashes can be reused many times
Eyelash extensions can be adjusted in length, curl, thickness and thin according to the style desired by the customer.
3. Choose a reputable and quality eyelash manufacturer
Through the above analysis, it can be seen that the demand for using false eyelashes is increasing. Therefore, building private label lash is essential for you to create and promote products to users.
However, choosing the best quality, cheapest eyelash manufacturer in the market is not as simple as you think. Below are the 2 most prestigious eyelash manufacturers in Vietnam that will bring you a variety of good quality, durable, beautiful and especially extremely affordable products. Let's choose a reputable eyelash manufacturer that can help you more favorably in the first step of starting a private label lash extension supplies!
Athena Lash Supplies
Athena Lash Supplies is an emerging brand in the field of manufacturing eyelash extensions in the Vietnam market. This unit can create the best quality eyelash extensions, and the products sold on the market will be directly attached with your private labels and hand delivered to the customer address you desire.
Athena Lash Supplies establishes a rigorous quality control process before delivering its products to customers. In addition, Athena Lash Supplies also provides a variety of eyelash extensions for customers or partners to have more products to do business in the field of eyelashes.
KTV Lash Supplies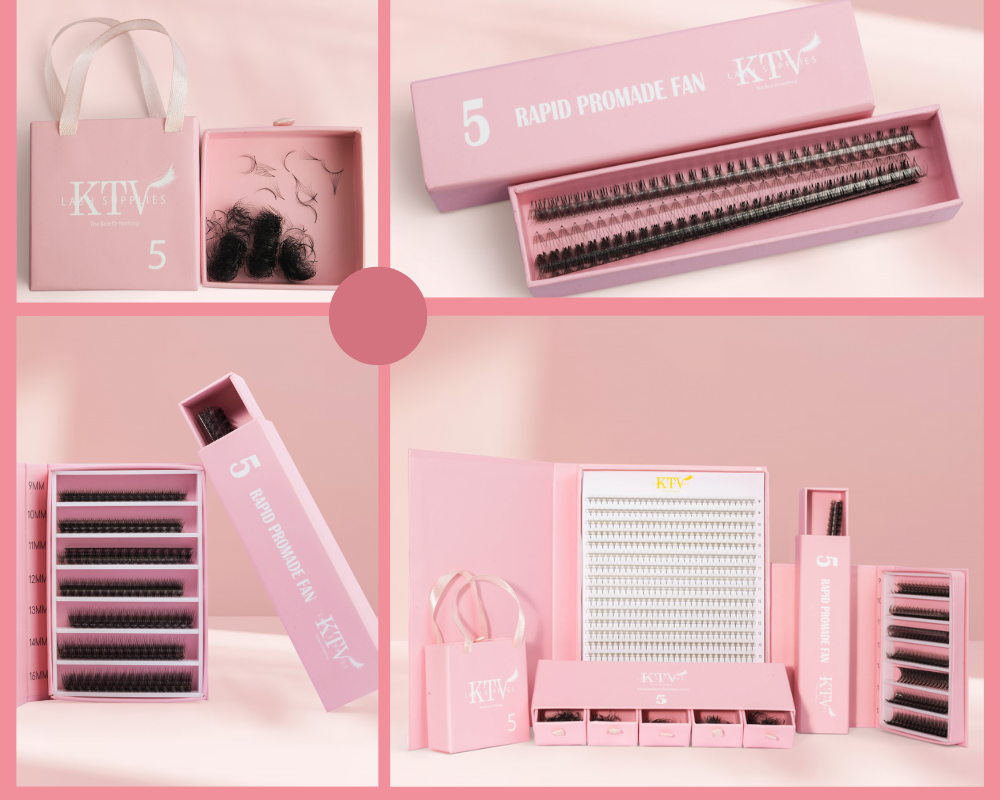 KTV Lashes is a factory specializing in manufacturing top quality eyelash extensions in Vietnam. With a strong and highly specialized staff, we will ensure that the number of products with the best quality and design meets the requirements of individual brand eyelash traders.
KTV owns a factory that meets international quality standards and applies high technology to the production of eyelash extensions. From there, KTV Lashes will provide partners with a wide range of private label eyelash products of high quality, uniqueness and outstanding applicability.
KTV Lashes' factory specializes in manufacturing eyelash extensions in a variety of designs and colors to meet almost any customer's search needs such as:
Handmade eyelash extensions
Promade eyelash extensions
Eyelash fan tray
Premium mink lashes
Eyelash extensions of various colors, …
Therefore, before starting a private label eyelash business, you must identify:
What eyelash product lines do you want to sell to the market?
Which target groups and customer segments are targeted?
Choose a quality, reputable, and affordable eyelash processing unit.
How to design a private label eyelash identity?
At the same time, you must find out effective solutions to promote your private label eyelash
How to sell products to bring the fastest and best profit, …
In short, private label eyelashes are a great solution for you to start an eyelash extension business and offer many opportunities to develop your personal brand. By giving exact technical requirements, choosing a reliable manufacturing partner and investing in brand promotion, you will be able to create the best quality false eyelashes products and possibly become a competitor, competing with any other major false eyelash brand on the current market.