In the current eyelash extension market, the premade lash fan wholesale is one of the business niches that you should not ignore because it is extremely profitable. Premade lash fans are eyelash extensions that have many useful uses in the eyelash extension industry, preferred by many dealers, wholesalers, retailers and eyelash extension customers around the world.
Thanks to many good features and uses, premade eyelashes are very commonly used in the eyelash extension industry. Quality products of premade fan eyelashes are highly appreciated by fans with uniform, durable eyelashes and help shorten eyelash extension time. These are the reasons why many customers and retailers are gradually turning to wholesale distribution of premade fan eyelashes to meet the increasing eyelash extension needs of women.
So, to better understand the premade lash fan wholesale, let's find out in detail in this article
What are premade lash fans?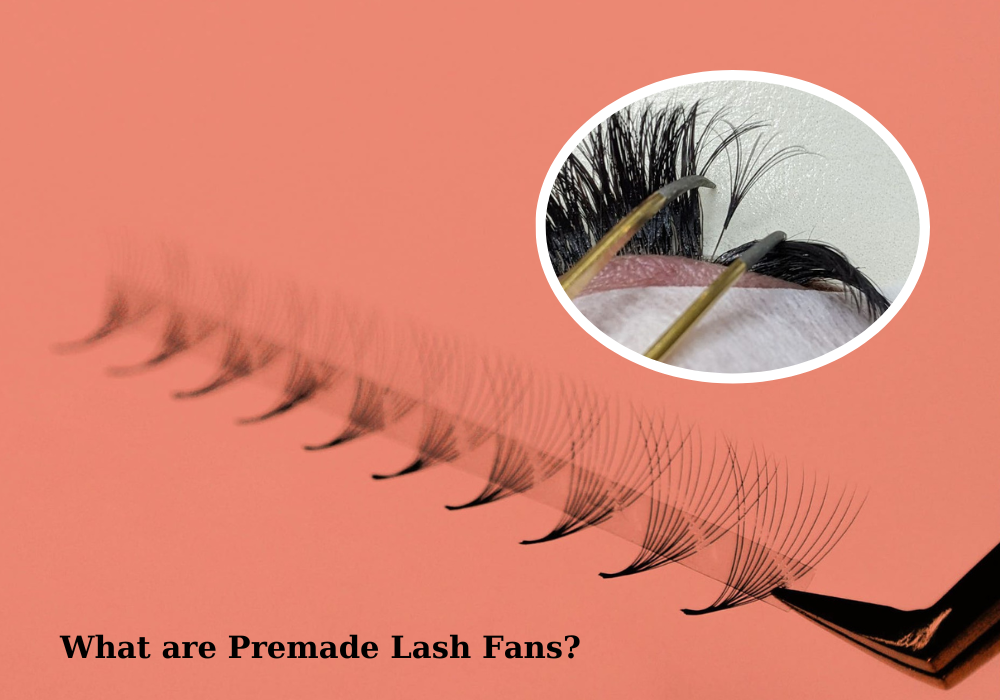 First, let's find out about what premade lash fans are? That are false lashes: from 2 lashes, 3 lashes, 4 lashes,…, n lashes strands are grouped into bunches of lashes with 1 common leg, the lashes are glued together with glue, the tips of the lashes are sticking out, the shape looks like each propeller (fan). The false eyelashes are designed in fan lashes to make the eyelash extension process faster. Using premade lash fans will help users save time and effort when they have to spend hours making each lash fan manually by hand. Premade fan eyelashes can shorten the time to complete the eyelash extension process in just 20-30 minutes to have the finished lash extension thick and curved as desired.
Premade lash fans come in a variety of sizes, lengths and thicknesses, usually made from high-quality materials such as silk, mink or synthetic faux fibers. Eyelash fans often come in a variety of styles and are suitable for many different eyelash extension styles from natural to glamorous, personality such as: Volume, Hybrid, and Classic eyelash extensions,….
The use of premade lash fans will help save time in the process of attaching each lash fan to the customer's real eyelashes, which is a popular choice of every eyelash extension artist today. However, it should be noted that eyelash extensionists must be well-trained and certified to practice eyelash extensions so that attaching each premade lash fan or not on top of the customer's real lashes must ensure absolute safety without affecting the eyes and must be aesthetic.
>>> You may be interested: What are lash fans?
What are wholesale pre-made fan lashes?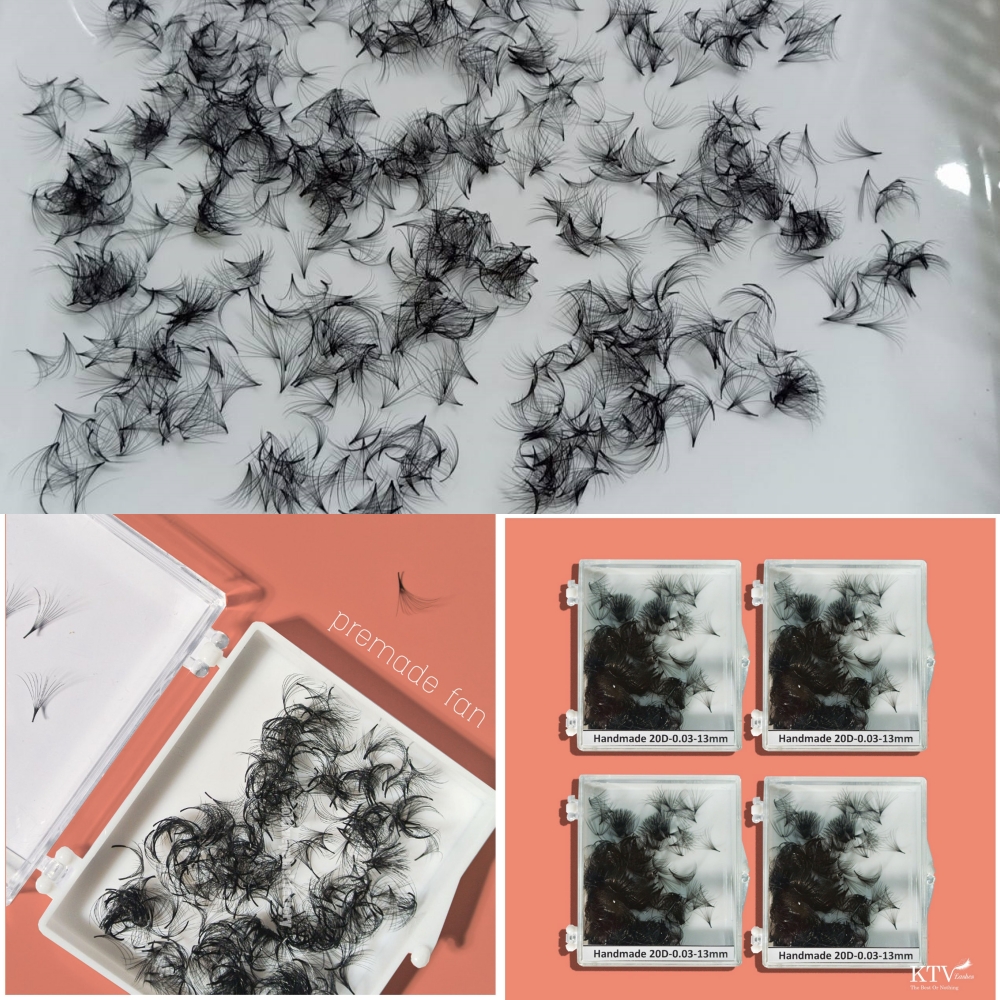 Next, let's find out what wholesale pre-made fan lashes? Premade lash fans wholesale is the wholesale sale of premade lash fans in bulk to businesses or individuals who intend to resell or use them for their professional eyelash extension services.
The premade lash fans wholesale market is a great option for beauty stores, eyelash extension establishments, or eyelash artisans who need large numbers of false eyelash fans to meet their customers' eyelash extension needs. Buying premade fan eyelashes in bulk wholesale is usually very cheap and much lower than retailing premade lash fans, helping you save money on eyelash extension service business.
It is very important to buy pre-made fan eyelashes wholesale, so you must choose reputable suppliers and products that ensure high quality, safe use. In addition, you also need to pay special attention to factors such as the style, size and material of the premade lash fan, along with shipping and delivery pricing policies, to ensure the most convenient purchase process.
Classification of premade lash fans
There are two types of premade volume fans: glue-bonded and heat-bonded. Let's examine the distinctions between them.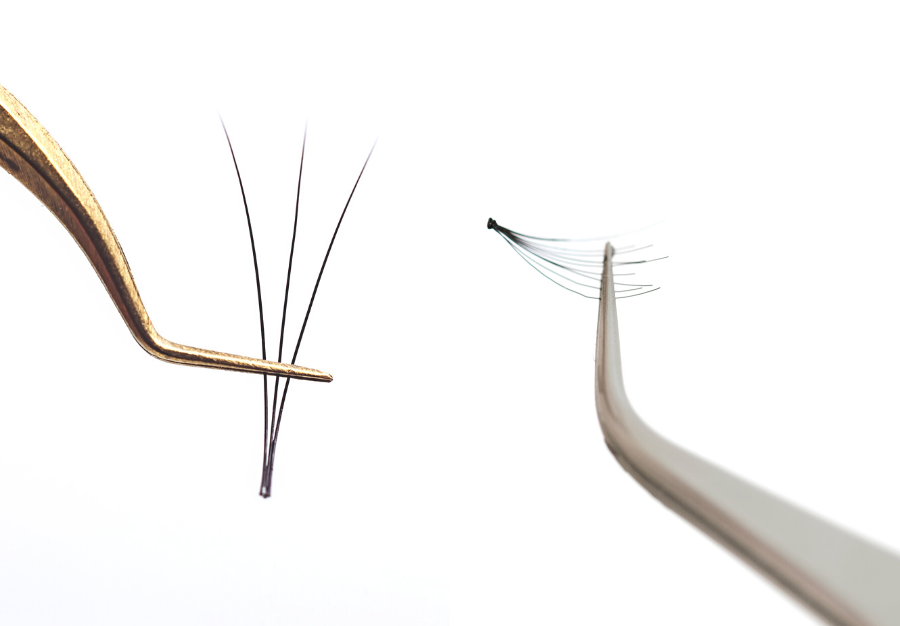 Glue-bonded prefanned volume lashes
Glue-bonded prefanned volume lashes, similar to handmade volume fans, utilize adhesive to hold the individual lashes together. To apply glue-bonded prefanned volume lashes on your clients, you'll need adhesive to attach the fan to their natural lashes.
While glue-bonded prefanned volume lashes produce satisfactory results, they may be too heavy for your clients. These fans weigh more than heat-bonded prefanned volume lashes since they are held together with adhesive. Furthermore, achieving seamless attachment to your client's natural lash can be challenging due to the additional adhesive applied to the end of the fan. The combination of the adhesive holding the fan together and the adhesive attaching it to the natural lash base may result in an undesirable clump.
Heat-bonded prefanned volume lashes
For those concerned about lash weight or adhesive clumping, heat-bonded prefanned volume lashes are worth considering. In this type of fan, the lashes are sealed together at the base using only heat.
Because heat is used to seal these fans, they are lighter and more manageable than glue-bonded prefanned volume lashes. You won't need to add extra weight to your client's natural lashes or contend with adhesive clumps that hinder attachment.
Advantages of premade lash fans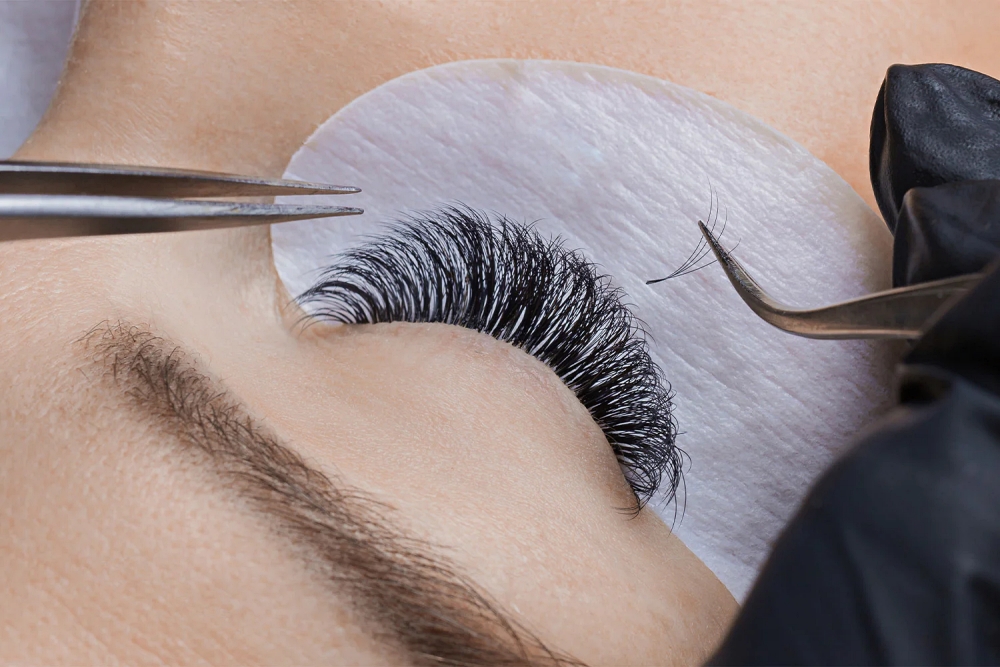 Premade lash fans are created from the skillful hands of highly qualified craftsmen. Premade lash fans will make eyelash extensions volume, mega volume and other lash styles much more time-saving.
Premade lash fans are chosen by many eyelash extensions for their convenience. Not only that, taking advantage of pre-made lash fans for eyelash extensions for customers also helps those who are just starting to learn eyelash extensions who are not proficient in eyelash creation, fans will also become more confident. Specifically, premade lash fans have many of the following utilities and uses:
No time spent creating eyelash fans, which saves eyelash extension time
Premade fan eyelashes are more durable than conventional lash extensions
Eyelash extensions with premade lash fans will help customers' lashes look thicker, curvy, softer and more natural.
Because premade lash fans have a lot of designs, they should meet all the needs of customers in terms of: spread, thickness, length, thinness and softness of lashes.
What tools do a premade lash fan wholesale usually offer?
What eyelash extensions tools do premade fan eyelash wholesalers usually offer? Surely the first item that suppliers sell to the market is: false eyelash products, eyelash extensions. And comes with eyelash extensions to support eyelash extension techniques for customers such as eyelash tweezers, eyelash glue,… As follows:
Variety of premade lash fans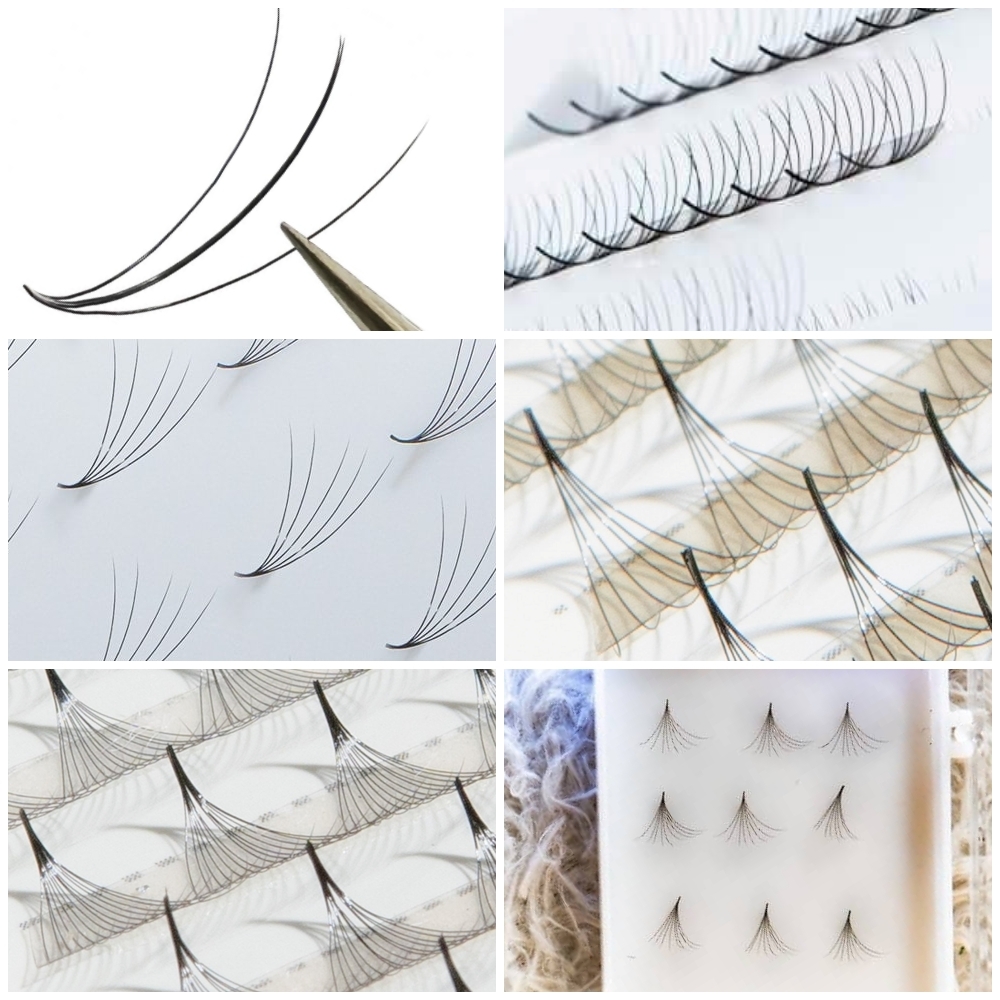 Premade lash fan wholesale often provide a full range of ready-made fan lashes with a variety of designs (classic, volume, mega volume, Hybrid,…), curvature (C, CC, D, DD, M, L, L+, J…), thicknesses ranging from: 2D, 3D, 4D,…, nD fans with high quality and wholesale prices at the factory. Help businesses and individuals trading eyelashes or eyelash extension service business will get more profit from wholesale purchase of premade fan eyelash products from reputable wholesale at good prices.
Eyelash glue
Eyelash glue works to bind false eyelashes together into a unified body on the same lash root. Whether or not eyelashes are beautiful and durable is directly determined by the types of eyelash glue. Reputable units will provide you with good quality eyelash glues, thereby helping to create fan lashes and eyelash extensions for customers with the highest safety.
Tweezers create eyelash fans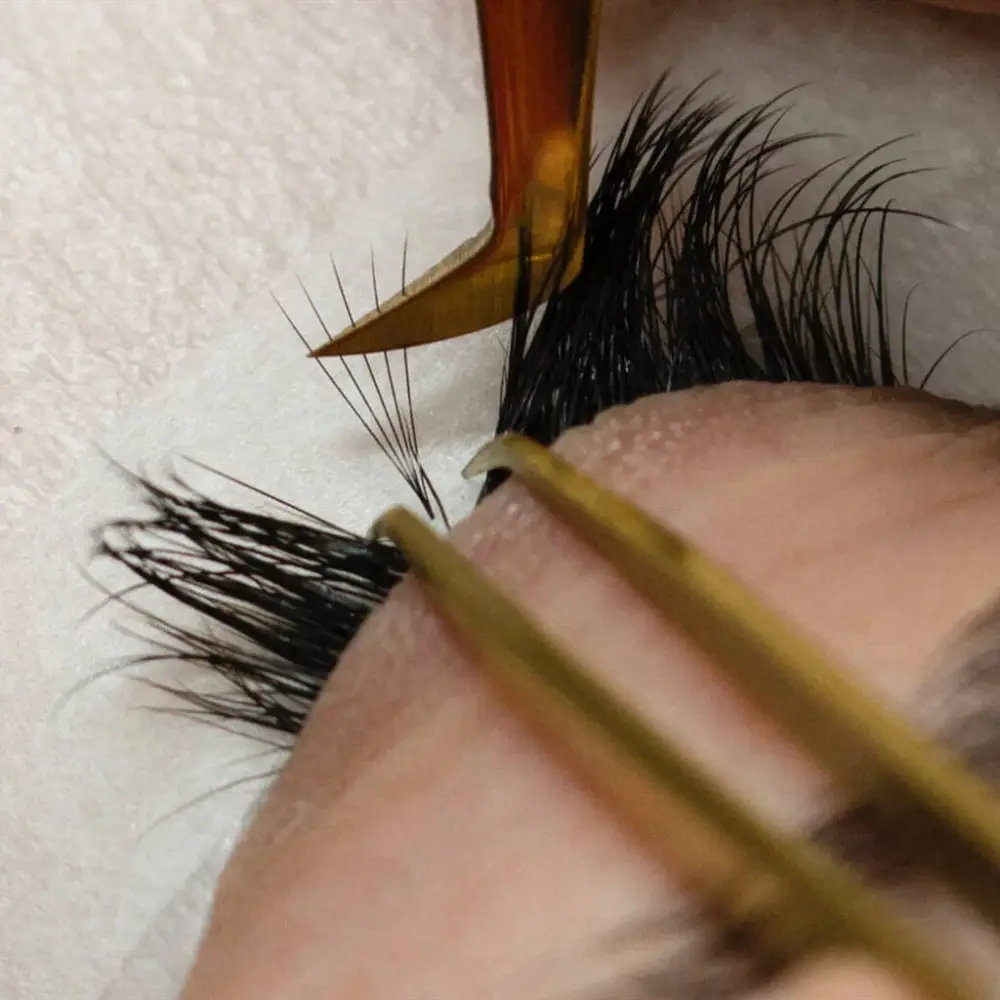 The next important tool that is indispensable in the eyelash extension business is eyelash tweezers, eyelash extension tweezers, split eyelash tweezers. On the current market there are many types of tweezers to create fan lashes, but professional eyelash extensions will use 2 types of tweezers: eyelash fan tweezers and split eyelash tweezers.
Fan lash tweezer
The most common fan lash tweezer has a compact tip that makes it easier to pick up and attach lashes than other types of fan lash tweezers. The volume lash fan tweezers will make it easy to create each fan lashes in the eyelash extension style that customers want.
Split lash tweezer
Split lash tweezers are specialized tweezers to separate the lashes from the lash band, the tip of the tweezers is designed to suit this lash separation stage. When separating individual lashes or individual lash fans, you should use lash split tweezers properly to save time, increase performance and get the best effect.
Guide to creating detailed lash fans from A-Z
Creating individual fans is quite simple but this job takes people with patience, ingenuity and meticulousness. Handmade fan eyelashes will give a better effect than workshop fan lashes, so if possible, customers should choose this type of lash for eyelash extension. Here are 3 simple fan creation steps that anyone can do.
1. Clean your hands and fan tools
Any impurities or excess oil on the hands and eyelash fan generators will limit the bonding of the lash glue. So the process of creating lash fans will take more time and is not safe. So, the first thing you need to do is wash your hands and clean the lash fan creation tools to ensure the safety of each lash fan created.
2. Separate each lash fan from the lash line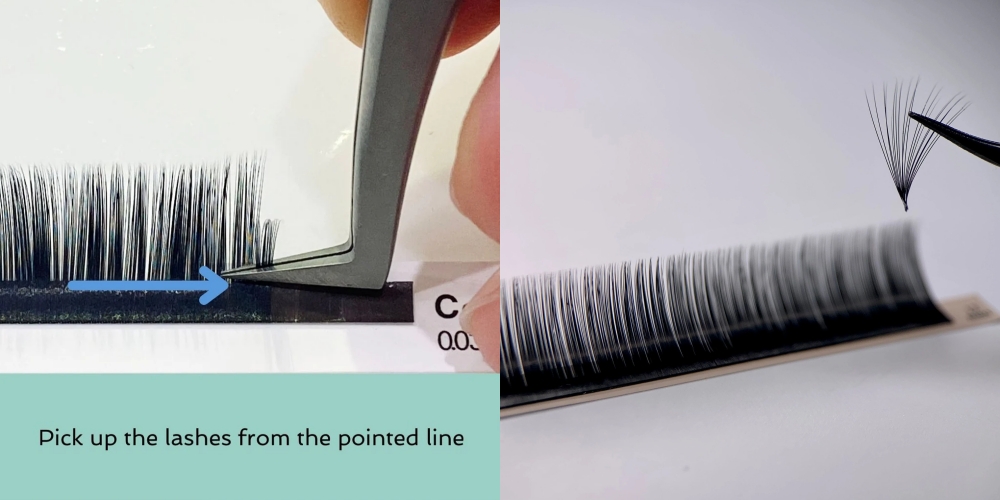 Next, you will proceed to separate each fan lash from the lash range. To separate each fan lash, use tweezers to create volume fan lashes to get the right number of eyelashes to create the desired fan and separate them from the lash line.
3. Create lash extensions legs with glue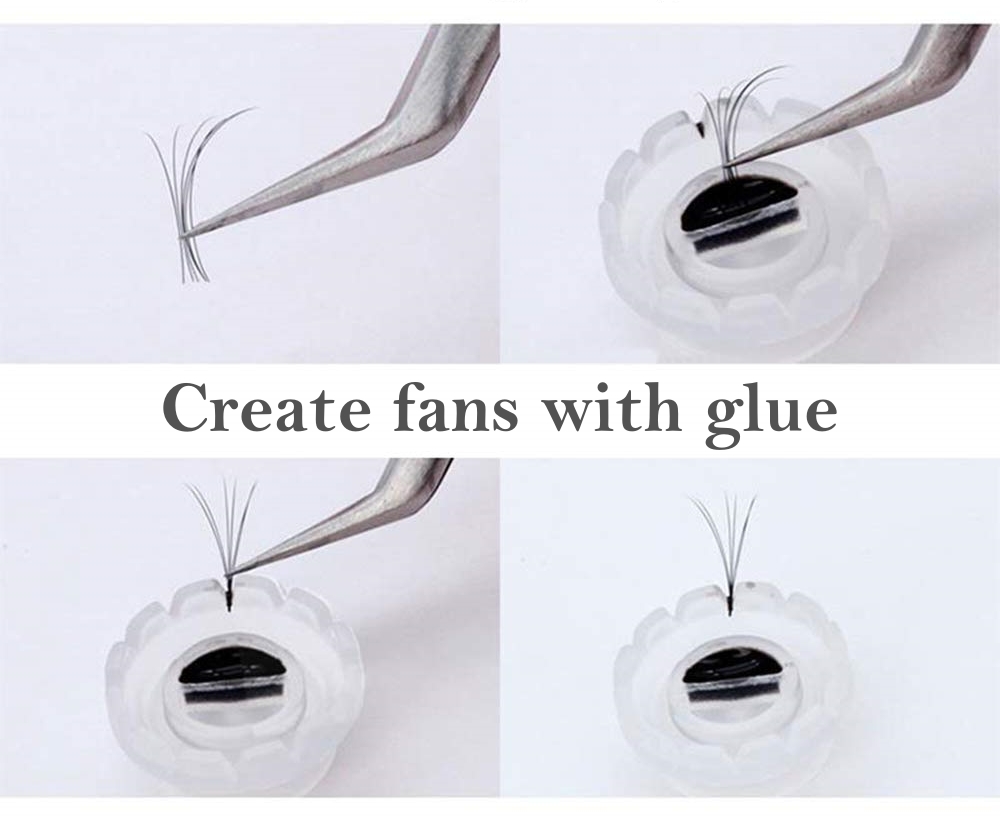 Dip the lash pins in the lash glue one by one, so that the glue is wet in a sufficient amount. Lightly stroke the lash roots to compact the lashes and remove excess glue. Waiting for the glue to dry is to complete a complete lash fan, which can be used to attach to the customer's real lash during the eyelash extension process.
Things to keep in mind when producing or using premade lash fans
What are the things to remember when producing and using fan eyelashes? Here are special notes for each subject:
For workers producing premade fan eyelashes
How to create premade fan lashes is not too difficult but requires precision in technique and ingenuity of the performer. Therefore, workers producing premade fan eyelashes need to be well-trained in professional fan lash creation techniques to produce beautiful and quality products.
For premade fan eyelash extension artists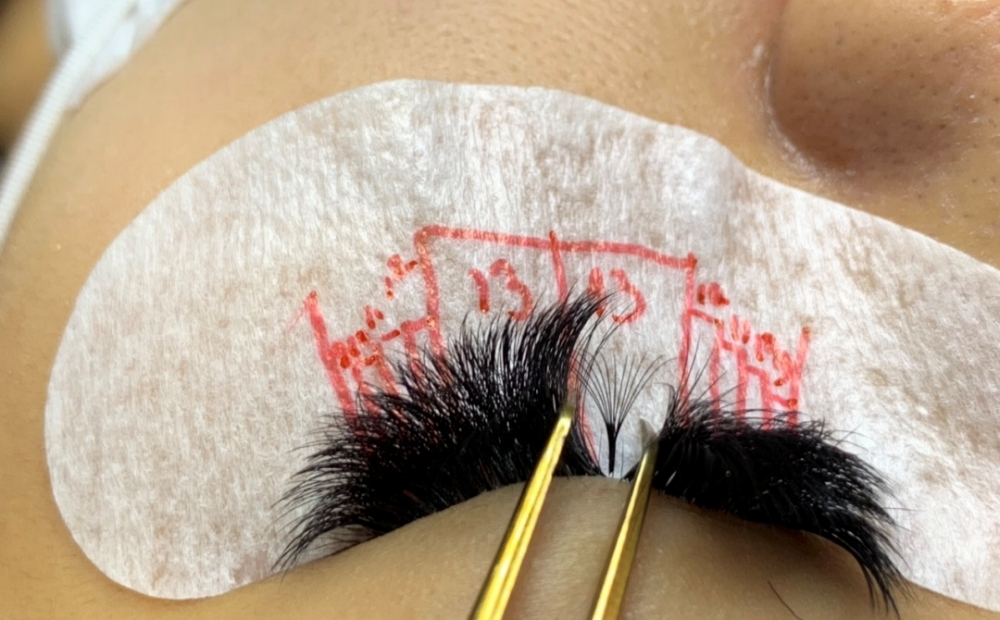 The eyelash technician will be the one who directly extends the eyelashes to the customer. Accordingly, when attaching fan lashes to customers' real eyelashes, you should note:
Ensure hand and eyelash extensions hygiene before creating eyelash fans
It is necessary to choose good quality eyelash extensions to create soaring lashes, ensuring long-term durability during use. Good glue will also dry quickly, shortening the process of creating lash fans. At the same time, using professional eyelash fan split tweezers, which are easy to hold, makes operation much more accurate and faster.
Take care of your lashes to avoid damage, breakage or mold
Trim the lashes, style the lashes and separate the fan lashes according to the right number of lashes to form each fan lash as desired.
For customers who want premade fan eyelash extensions
Before performing eyelash extensions, customers need to know the information about the eyelash fan material, whether the type of lash fan suits their desired style or not?
Understand the condition of your eyelids and listen to advice from eyelash extension experts, to choose the most suitable eyelash fan
Find out in advance reputable eyelash extension addresses on search engines, forums, social networks, … Choose reputable eyelash extension shops near your area, then select the eyelash extension facility you like best.
After choosing a reputable eyelash extension, prioritize using premade eyelash extensions that will save you a lot of time on eyelash extensions and still ensure to get beautiful, curvy thick lashes, eyes also become more vibrant and attractive.
Find out the wholesale premade lash fans market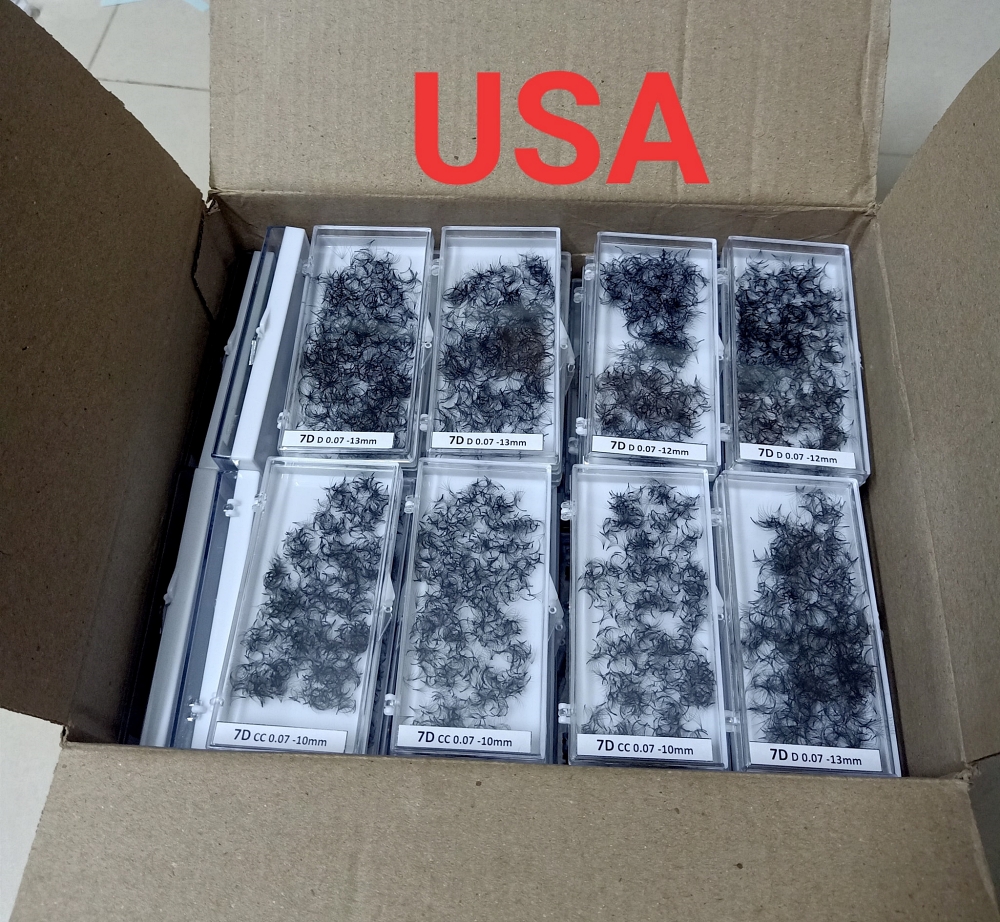 Since recent years, women's beauty trends have been increasingly focused and invested. In particular, eyelashes are one of the important factors that help the eyes become more attractive and attractive. Therefore, it is not difficult to see the development of the wholesale market of premade fan eyelashes.
Significantly, not only beauty salons but also individuals who are doing business in this field are realizing the potential and development opportunities of this product segment. With a variety of types, sizes and colors, fan eyelashes have become a popular product and are chosen by many consumers.
With that situation, wholesale pre-made fan eyelash is one of the business segments that is receiving the attention and investment of many people. With the growth of the market and customer demand, the wholesale premade lash fans is becoming an attractive business, full of potential and can bring a lot of profit to traders.
However, with any other business, in order to succeed and grow sustainably, a premade eyelashes fan wholesale needs to have knowledge and experience of products as well as management and marketing skills. Besides, the quality of products and services is also an important factor to attract and retain customers.
In short, on the current market there are many units that provide premade fan eyelash products for dealers and retail shops at competitive prices. However, in order to find a reliable partner and have quality products, fan eyelash wholesale need to learn carefully about the supplier before deciding to cooperate.
Women today want to have big round eyes with fuller, longer and more attractive lashes. Grasping the eyelash extension trend, many eyelash manufacturers have taken creative steps and launched a variety of fan eyelashes in terms of designs and designs. Among them, premade fan eyelashes help eyelash extension artists save time creating eyelashes and eyelash extensions for customers in the fastest way but still ensure excellent quality and safety.
Premade eyelash fan is a niche in the wholesale market of false eyelash products used for eyelash extensions for women, bringing super profits to businesses, organizations or individuals operating eyelash extension services. Therefore, the premade fan eyelashes wholesale market has very competitive prices along with extremely diverse product quality.
KTV Lash Factory – The best quality premade fan eyelash wholesale from Vietnam
KTV Lashes is one of the leading eyelash extension manufacturers, a unit specializing in bulk wholesale of high-quality handmade fan eyelashes in Vietnam. With many years of experience, KTV Lashes can affirm the high quality of premade fan eyelashes that the unit is supplying to the domestic and international markets.
Each type of premade fan lashes is created from the hands of professional technicians with many years of experience in the profession. KTV Lash Company always controls the quality of each finished product that it launches into the market. At the same time, there are many preferential price policies for eyelash wholesale.
In recent years, KTV Lashes' pre-made fan eyelash products are very loved and trusted by customers. Therefore, this is the address, the No. 1 premade fan eyelashes wholesale in particular, false eyelashes in general in the global market that every business, every individual eyelash extension business is looking for.
The most popular premade fan eyelashes at KTV Lashes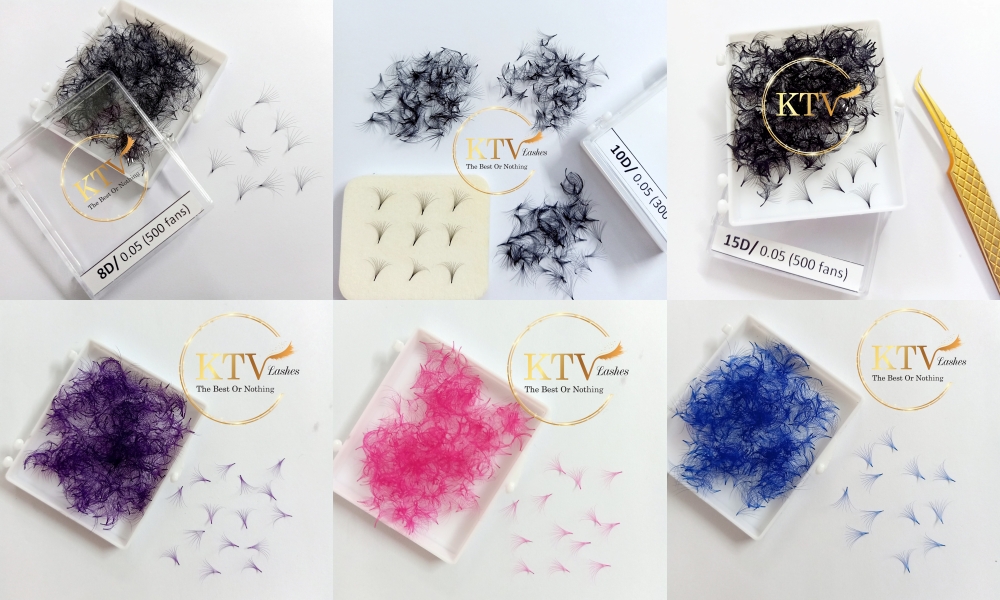 At KTV lashes there is always a large number of premade lash fans available to serve the diverse search needs of the premade fan eyelash wholesale market. Includes popular premade fan types such as: 3D, 4D, 5D, 6D, 8D, 10D, 12D, 14D,… Variety of premade lash fan lines such as: 3D, 4D, 5D, 6D, 8D, 10D, 12D, 14D,… Various premade mi fan lines such as: XL Promade Fan Tray, XXL Double Fan Tray, Loose Fan Single, Loose Fan Mixed, Ultra-speed Fan Single, Ultra-speed Fan Mixed, Colour Promade Fan, Spike Promade Fan, Narrow Promade Fan, Handmade Fan,… with many fan eyelash materials such as:
Fan eyelashes are made from hair: with soft, thin and natural characteristics.
Fan eyelashes made from mink hair: have outstanding shine, softness, have a more beautiful natural shine than lashes made from real hair.
Fan eyelashes made from synthetic fibers: this is the most popular fan lash material currently on the market because of its glossy, smooth, thin and diverse thickness and curvature.
Fan eyelashes made from high-quality silk: have a beautiful shine to bring the lashes with the most natural features.
Why should you buy premade lash fans wholesale at KTV Lash Factory?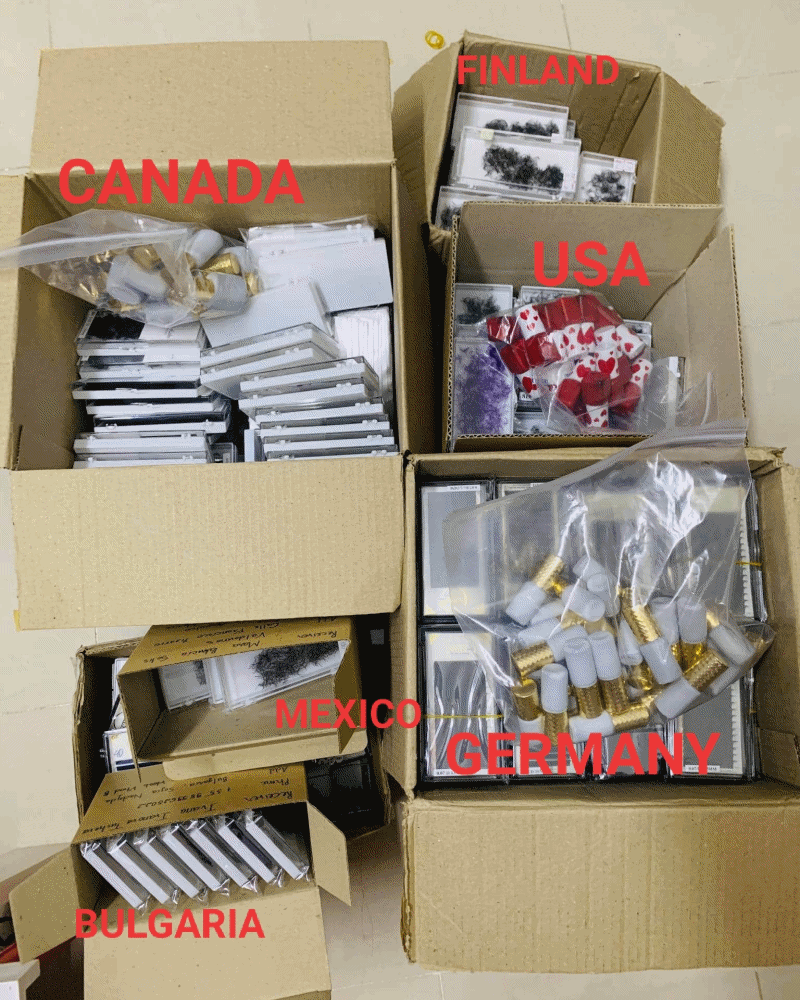 There are many reasons for domestic and international customers to trust KTV Lashes as the current leading supplier and pre-made lash fan wholesale.
KTV lashes confidently to bring the best quality products to the world market:
A team of experienced and highly skilled technicians: KTV lashes bring to customer exquisite products, meticulous processing and the best guaranteed quality
KTV Lash Factory has its own advertising team: to check and manage the quality of goods, ensure the creation of premade fan eyelashes of high standards exported to many countries around the world, especially America and Europe.
Premade fan eyelashes wholesale price is very competitive: With a large factory size and large labor, KTV Lashes relies on the advantage of scale to offer wholesale prices for premade fan eyelashes that are extremely competitive and the cheapest in the market. There are different prices depending on the type of premade lash fans from different materials.
Premade fan eyelashes wholesale is a very popular business trend in the current beauty market. Using premade fan eyelashes will help your eyes add more charm and attractiveness, and also make women's daily makeup easier and faster. If you are looking for a premade fan eyelashes wholesale address, you can take a close look at the information that we have shared with you in this article. Hope to help you choose a reputable, quality assurance pre-made fan eyelash wholesale with the best price policy.