Beautifying the eyes is no stranger to women. Since the advent of eyelash extensions, it has become one of the most popular beauty solutions for women to create radiant beauty for the eyes. But more than just products, eyelash extensions have become a trend and attracted the attention of young people. And among them, eyelash extension lovers are especially fond of using "lash extension fan".
To understand more, what are lash fans? Which eyelash technique lash extension fan joins in? How to create the best eyelash fan for professional eyelash extensions?,… will be fully explained in this article. Let's explore!
What are lash fans?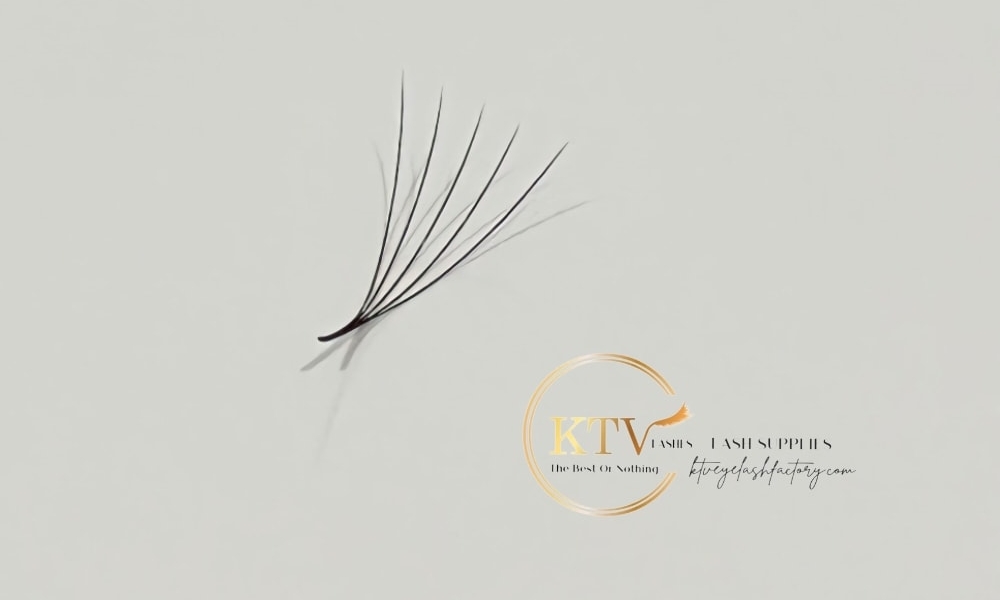 A lash fan is a plume of lashes made from many false lashes, usually 2 to 5 lashes that will be formed into a plume shaped like a propeller and wide in the upper part. Fan lash extensions are often used in the volume eyelash extension technique, which is an eyelash extension method where lash extensions will combine attaching eyelashes to a real eyelash, helping to create lashes that are thicker, curvy and more attractive.
With the use of  lash extensions premade fans, eyelash extensionists can save more time than combining each false lash on a real eyelash. At the same time, using fan lashes in eyelash extensions will help create a more beautiful and even lashes. In addition, the use of lash fans is also very convenient, helping eyelash extensionists extend eyelashes to customers more quickly and professionally.
Pre-made fan lash extensions can have from 2 strands, 3 strands, 4 strands,… n strands bunched together in a bunch with the same root, the tops spread. Fan legs are glued together with lash glue. Lash fans are divided into categories such as: 2D, 3D, 4D,… corresponding to lash fans 2 strands, 3 strands, 4 strands,… Depending on the characteristics, eye shape and unique requirements of each customer, the eyelash extension technician will choose the right eyelash fan.
Outstanding uses of lash fan extensions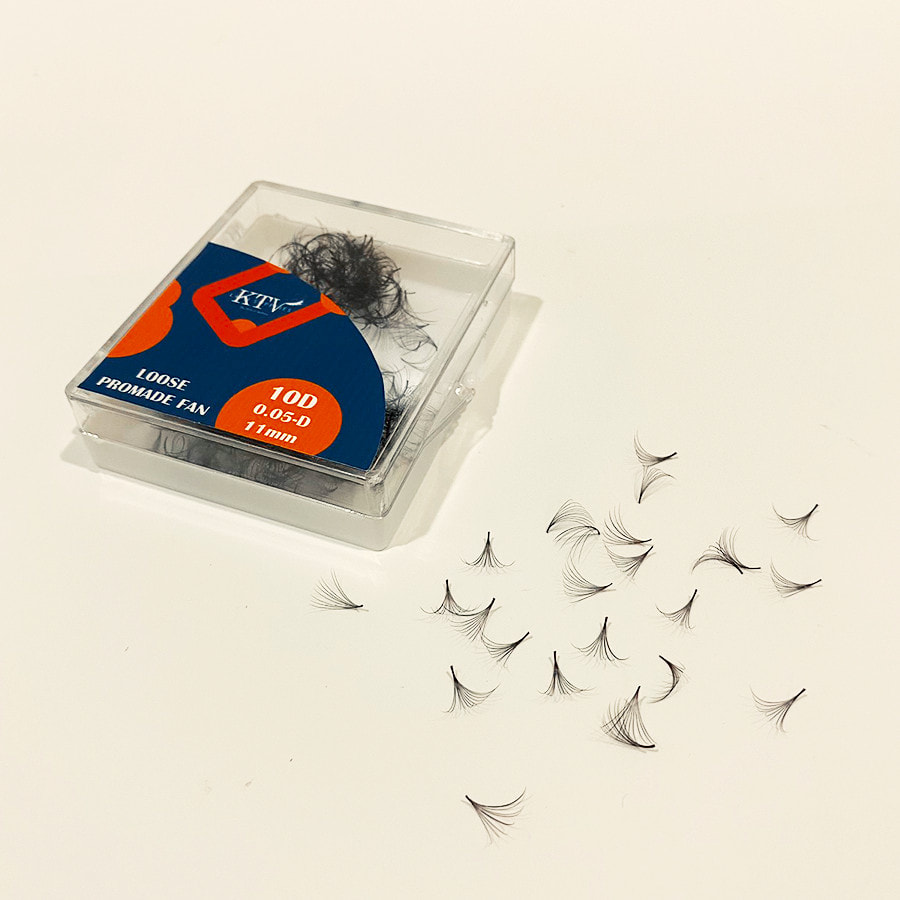 In fact, using lash fans brings a lot of benefits. The product has a variety of designs and digital sizes, so it meets all the eyelash extension needs of users. At the same time, using eyelash fans to attach to real lashes is also very easy and convenient, whether you are a novice, amateur or professional eyelash extension artist who does not know how to create eyelash fans, you can still attach eyelashes thanks to premade lash fans. Therefore, a large number of users love and appreciate the features and uses that these lash fans bring.
How to classificate lash fans is the most standard
What are easy fan lashes?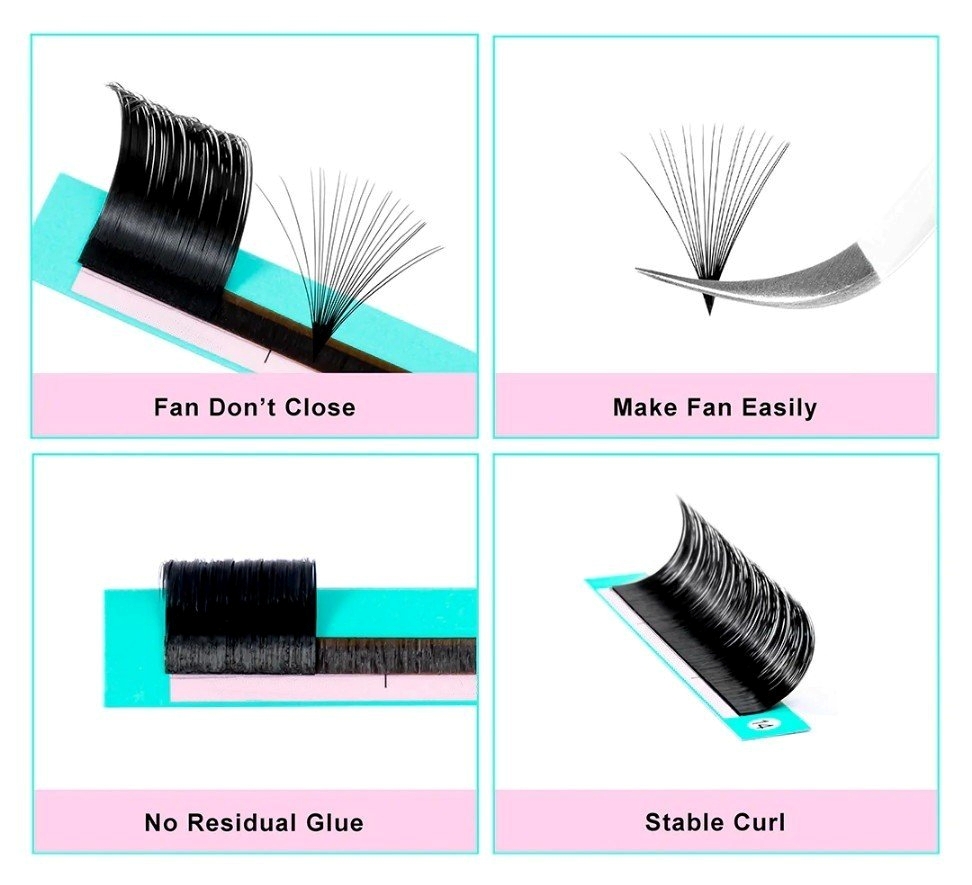 Easy fan lash extensions are usually handcrafted from soft and lightweight synthetic fibers. These lash fans are designed specifically for eyelash extension artists which saves time to create volume lash fans. Easy eyelash extensions can be easily removed from the strip and the band can be easily removed from the base. This is an eyelash extension product that is used as a powerful support tool for eyelash extension salons and professional eyelash extension artists.
What are handmade lash fans?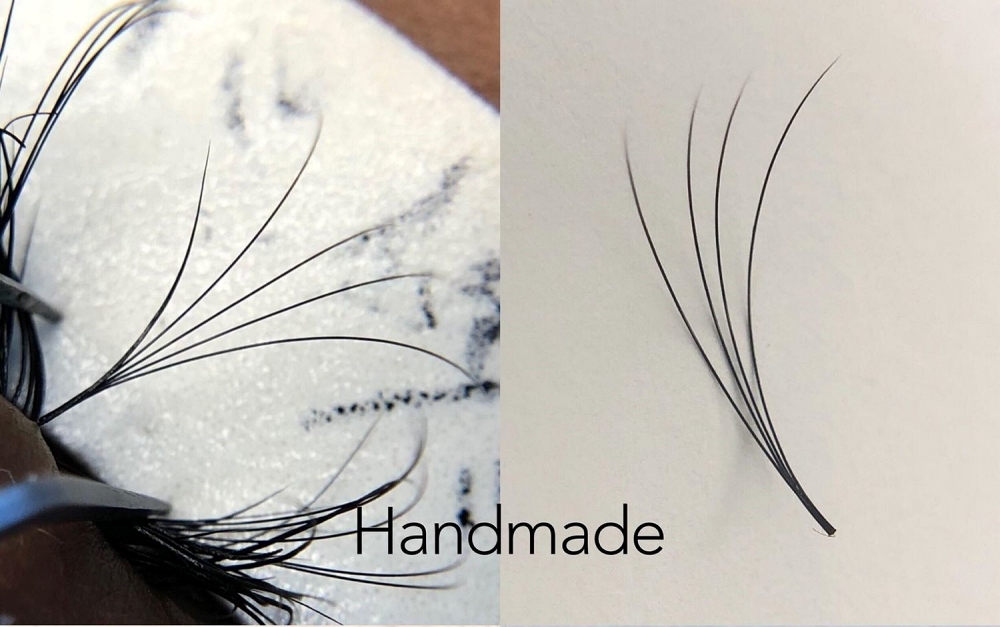 Handmade or pro-made lashes are created by professional lash makers. Some eyelash extensions are pulled out of the lash band, which then spreads the upper body of the lashes to look like propellers and then the eyelash extension artist attaches to each client's real lashes using lash glue. For the most part, eyelash extension artists will separate each lash fan from the previous lash band, so that when conducting eyelash extensions for customers, it will be faster and more convenient.
Handmade fan lashes are often supplied to the market as loose lash fans, with a variety of curvatures so that eyelash extensions can easily choose the right lash for each customer's real lashes. The reason why this type of fan lash is very popular is because these fan lashes are very carefully machined, highly polished and very similar to natural lashes. Although it takes time to shape, lash fans have helped the eyelash extension artist create the most delicate and perfect lashes for customers.
What are premade lash fans?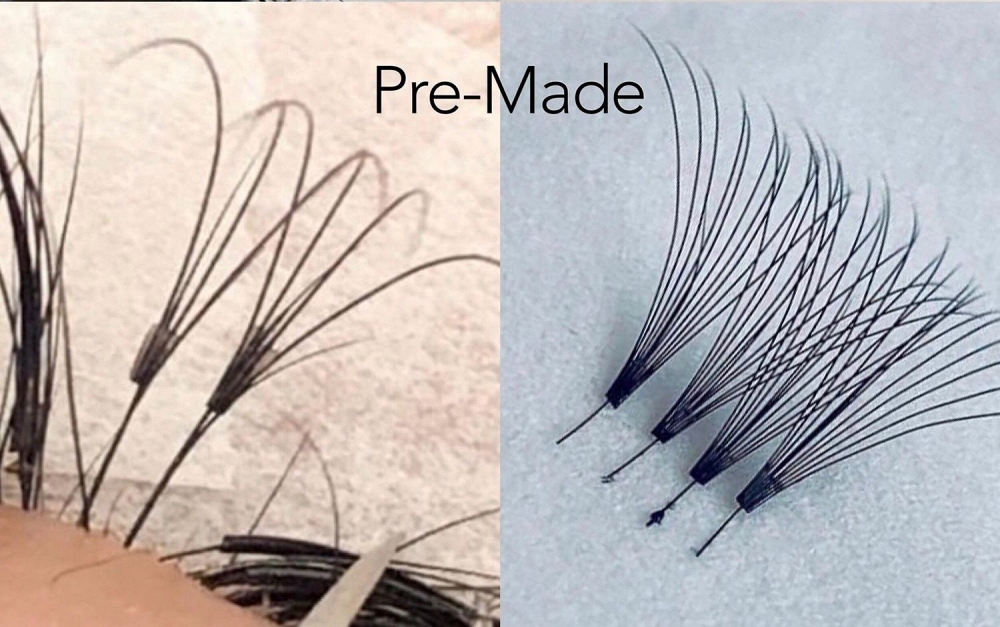 Most of the lash fan products available on the market are premade lash fans with 3-10 strands/fans. This product line is the perfect choice for the current eyelash extension field. The outstanding advantage of this line is that eyelash extensions will be and bring a comfortable feeling to the user.
At the same time, with this choice, the eyelash extension artist will also save time creating eyelash fans. Therefore, they are highly appreciated in all aspects and are becoming more and more popular.
Lash fan studded with stones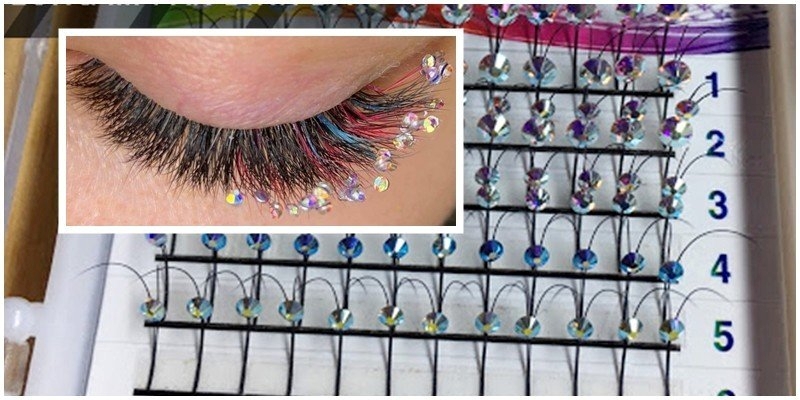 This type of fan lash is studded with beads or stones in the upper part of the lashes. This type of fan lash is usually made from high-quality velvet and silk materials to achieve the best durability. Stone-studded fan eyelashes that look like sparkling diamond beads make your eyes very attractive. Thanks to the difference and uniqueness, stone-studded fan eyelashes are burning young people's hearts and overturning the current eyelash market.
Distinguish easy lash fan, pre-made lash fan and handmade lash fan
Compared to false eyelashes, using fan lashes to extend eyelashes will give you thick lashes that are beautiful, attractive and aesthetically pleasing. Especially, the use time of a lash fan is longer than attaching false eyelashes to more than 2 months depending on the type of lash fan you use. You won't need to spend a lot of time attaching or removing your lashes every day. In addition, the use of fan lashes is more cost-effective than buying false eyelashes.
So which lash fans should you buy are quality? Let's compare 3 types of lash fans: easy, pre-made and handmade! Easy fans and handmade fans are created by professional technicians, when creating eyelashes of this type requires meticulousness and ingenuity of the performer. So to be able to master the technique of creating easy lash fans and handmade lash fans or premade lash extension fans, you need to be well-trained from experienced people, otherwise it will be difficult to separate each lash fan from the lash range.
Instead, pre-made lash extension fans are a type of lash fan that has been separated by technicians into individual lash fans, helping professional eyelash extensions complete the lashes for customers in the shortest time. In particular, the fans of the eyelashes spread evenly, the microscopic eyelashes when attached to the real lashes will create a naturalness for the eyes.
The most popular handmade fans (pro-made fans) on the market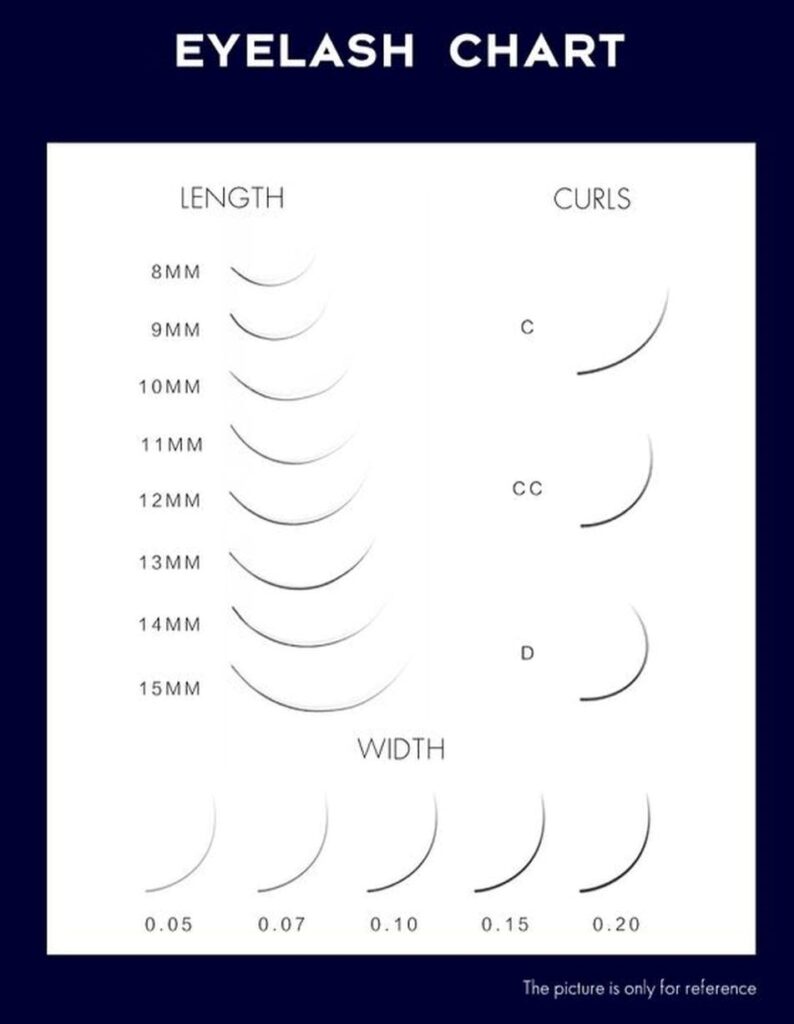 Pro-made fan eyelash is one of the most popular choices of professional eyelash extension artists, used to create the most beautiful, thick and natural lash extensions for customers. Accordingly, some of the most popular types of handmade lash fans for women are:
C-Curl Pro-made fan eyelash extensions
C-Curl Pro-made fans have a normal curvature, about 60 degrees. The lashes will feel like they have just been bent, adding charm to the eyes.
D-Curl Pro-made fan eyelash extensions
This is the type of lash fan whose lashes possess an impressive curvature of 70 degrees. Often used to create thick and long lashes, suitable for parties or on special occasions.
L-Curl Pro-made fan eyelash extensions
This type of lash extension has the greatest curvature, about 80 degrees, for a thick and strong lash shape. Often used for impressive lash extensions and real eyelashes of customers that already have curvature.
U-Curl Pro-made fan eyelash extensions
U-Curl Pro-made fan eyelash extensions are for customers who love thick, bold, deep and attractive eyes. U-Curl Pro-made fans will blow away the imperfections of deep, bulging, slanting, sagging eyes.
Flat Pro-made fan eyelash extensions
Flat Pro-made fan is a super durable lash. This type of lash has a flat body structure, not round like regular lash extensions. The special feature of the flat lash fan is that the thickness of the lashes is about 0.20mm or 0.15mm but the weight is only 0.07.  Lashes are thick but light, black, glue-catching, easy to join, durable and fast…
Why do we use premade lash fans?
Save time on eyelash extensions
Typically, an eyelash technician will use eyelash fans during eyelash extensions for customers. However, this work is time-consuming and difficult for eyelash extensionists, especially newbies. Therefore, using pre-made fan lash extensions has become an effective solution to speed up completion and support eyelash extension skills for customers. This is an optimal time-saving solution for eyelash extensions that you should not ignore.
Easy to use
Lash fan is pre-shaped, can be used directly attached to real eyelashes and ensures accuracy, meticulousness, and sophistication through each lash fan. With a variety of curvatures, thicknesses, and lengths, you can freely choose the fan lashes that suit your hobby and real lashes.
Variety of styles and thicknesses
Pre-made fan lashes range in thickness from 0.03 to 0.30 and have multiple curvatures C, B, J, CC, D, DD, U, O, L, L+,… All lines meet the criteria of beautiful, spreading and even. This premade lash fan type is suitable for all types of customers when going to work, going out, going to parties, … There are many parameters of thickness and length of lashes to meet all the needs of all brothers and sisters in the profession. Therefore, pre-made eyelashes are always chosen by many eyelash extensions because they are suitable for many women.
High efficiency and durability
Lash fans are very popular with women because they have the same eyelash root, do not create a feeling of heaviness and cumbersome for the eyes. At the same time, fan lashes are durable, keep longer than other eyelash extensions, bringing a feeling of confidence and comfort to women.
Suitable for many different types of real lashes
Lash fans are available in many types from 2D, 3D, 4D,… to n D, suitable for a variety of customers' real lashes. Depending on whether the natural lashes are thin, long or short, the eyelash extension artist will advise the most suitable lash fan line.
Which type of lash fan is right for your real eyelashes?
To suit each person, each different user, there will be many different fan sizes with different short lengths. Depending on the needs of users who own natural, moderate, charming or personality lashes, choose the suitable lash fan line. Concrete:
Pre-made lash fan 3D, 4D: will create the effect of light, thin lashes
Pre-made lash fan 5D: will create the effect of medium thickness lashes
Pre-made lash fan 6D, 7D, 10D: will create the effect of thick and bold lashes, suitable for European and American women.
How to create the fastest lash fans for professional eyelash extensionists
When you know the right technique, creating lash fans will be faster and easier, no more difficulties. To create eyelash fans, you need to choose a good lash glue to ensure the durability of the fans during use, and good lash glue will help the lashes fix and dry faster. Plus eyelash extension tweezers, choose professional and familiar tweezers, the operation will be faster and more accurate.
Step 1: Clean your hands and eyelash fan tools
To ensure that fans do not collect dust during the procedure and also to ensure the safety of customers' eyes. First, you need to wash your hands thoroughly with hand sanitizer or soap before proceeding to create eyelashes. This is followed by disinfection and cleaning of eyelash fan tools and tweezers.
Step 2: Use tweezers to pick up the lashes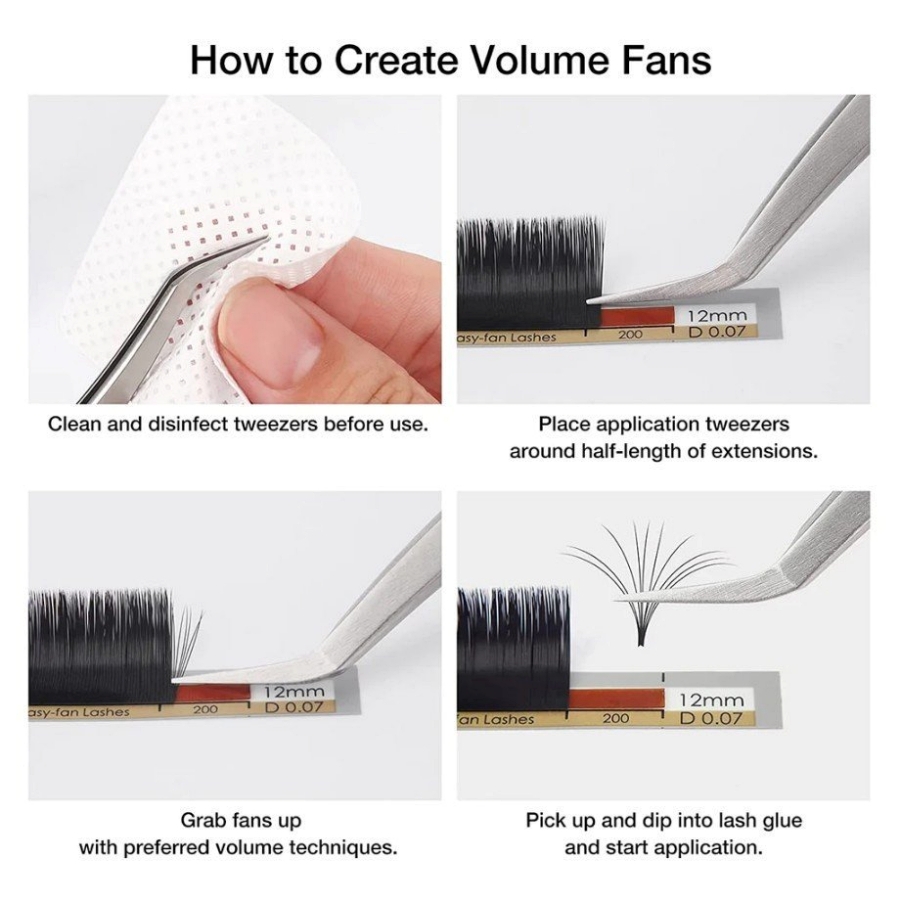 Based on the types of fans you need to do such as 2D, 3D, 4D,… You will use eyelash extension tweezers to separate the right number of lashes to separate from the lash band to create each individual lash fan. Pay attention to using the sharp end of the eyelash extension tweezers to slowly pull the lashes out of the lash band, so that the lash tips spread evenly. Then use the flat surface of the eyelash extension tweezers to separate the eyelashes up from the lash line and avoid the situation that
Step 3: Create eyelash fans with glue
After separating each lash cluster from the lash band, keep the pinched lash legs together and dip in the lash extension glue in a moderate amount. Then gently stroke the glued lash legs on the paper to make them less glue and compact. Wait 3-5 minutes for the glue to dry and you have a complete fan leg.
Step 4: Use lash fans to extend eyelashes to customers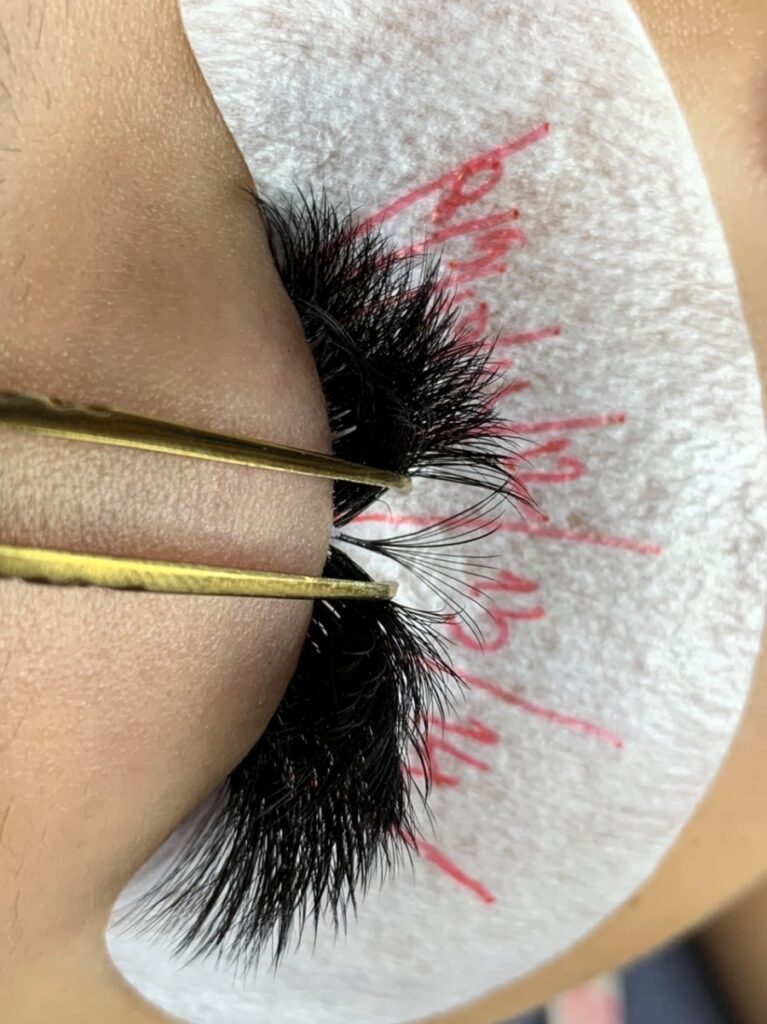 Use pre-made fan lashes to attach to guests' real lashes. You will separate each real lash and place it neatly on top of each real lash until the eyelash thickness as desired by the customer is achieved.
Step 5: Take care of your lash fans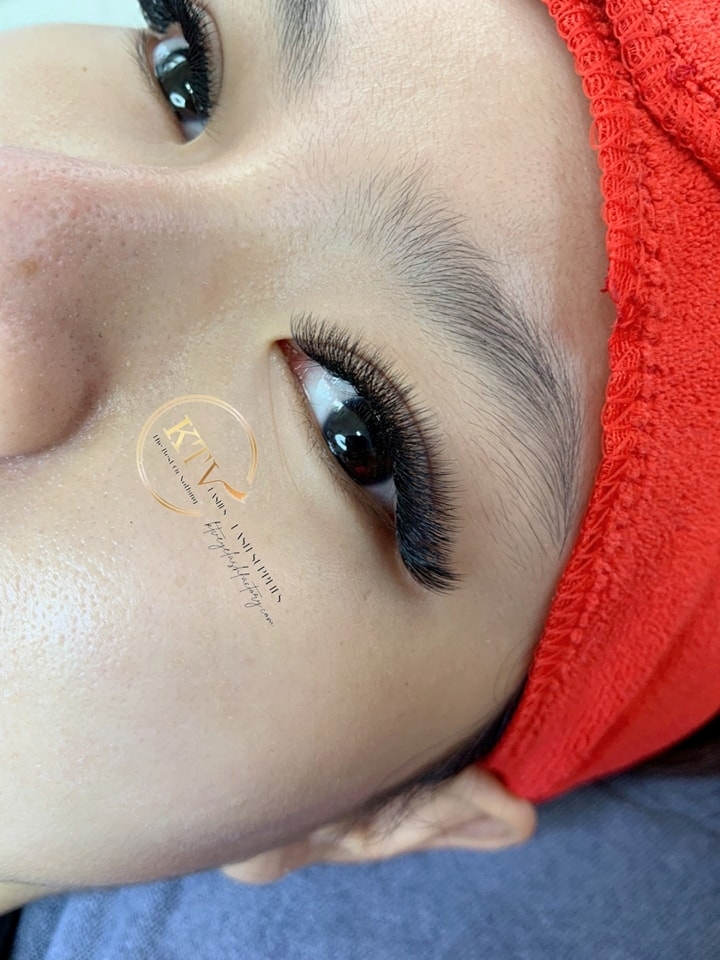 After creating lash fans, if you do not perform lash extensions directly for customers, store these premade lash extensions in a container. When eyelash extensions are needed, just removing and extending eyelashes for customers will save a lot of time. Put the fan lashes extensions in a clean container with a lid and note the size of the lashes outside will be more convenient during use.
Special note: store fan lashes extensions in cool and dry places to avoid affecting the quality and durability of the glue pin.
Useful sharing from KTV Lashes above, hope to help you know what lash fans are? The use of lash fans, distinguishing the types of lash fans and how to create lash fans quickly and standardly. If you need to find yourself a supplier of pre-made eyelashes, good quality handmade fans, affordable prices, please quickly contact KTV Lashes Factory – TOP 1 eyelash extension manufacturer in Vietnam.
>>> You may be interested: Lash Supplies