Classic Lash Extensions or Classic Eyelash Extensions are very popular eyelash extensions today. The effect of the classic eyelash extension technique is to help your eyes become deeper, bigger and rounder, with soft and smooth eyelashes, creating a high aesthetic effect for a beautiful face.
Most eyelash extension establishments or beauty salons are supporting classic eyelash extension services because they are affordable and suitable for all women. Join KTV Lash to discover details about classic eyelash extensions and classic eyelash extensions techniques! Hopefully, it will help you choose the right eyelash extension style and help your beauty become more and more perfect.
What are Classic Eyelash Extensions?
Classic Lash Extensions or Classic eyelash extensions is a method of attaching false eyelashes to the legs of real eyelashes, bringing the most realistic and natural feeling compared to other eyelash extension techniques such as volume, mega volume, hybrid lash.
The eyelash extension technician will meticulously attach each false eyelash to each real eyelash to create the effect of depth, thick and curved eyes but still keep the eyes naturally beautiful and similar to the real eyelash. This type of extension is more appreciated for its aesthetics, ensuring it does not irritate the eyes, does not feel heavy on the eyelashes and has a long time of use. The cost for each classic eyelash extension is also quite low and affordable for many women.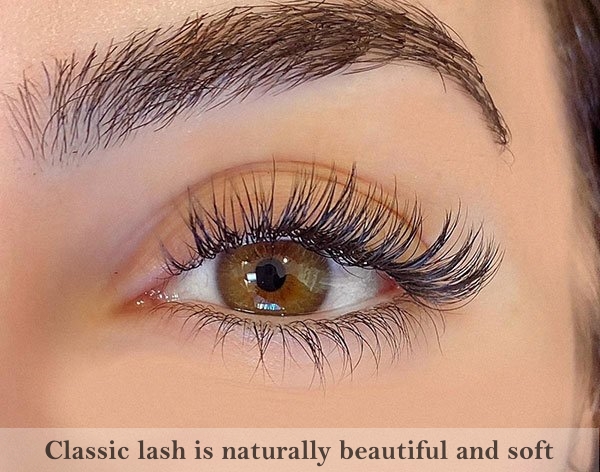 Therefore, the classic eyelash extensions are gradually becoming more and more popular. The classic eyelash extension technique is available in most beauty stores and is always attractive to women.
Classic Outstanding advantages of Classic eyelash extension method
Why are Classic Lash Extensions so popular? Perhaps this is the question many women have when learning about eyelash extensions for the first time. Some advantages of classic eyelash extensions you should know:
Eyelashes are less broken, long use time
Because each false lash is meticulously attached to the base of the real eyelashes, Classic Lash ensures less breakage. Classic lash extensions last longer than many other eyelash extension methods. You will save quite a lot of money and time on your beauty each month. As noted, classic lash extensions can be kept on real lashes for up to 1.5 months.
Classic eyelash extensions bring the most natural and authentic beauty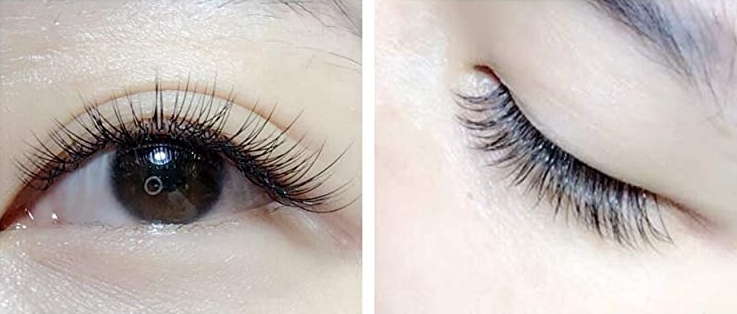 Classic eyelash extensions make beautiful eyes natural, honest, attractive and have more depth than real eyelashes. Classic lashes have characteristics similar to real lashes, so they create a feeling of not "fake", helping you improve your beauty effectively. The classic eyelash extension material is usually very soft and light to help the eyes always open to the right size, avoiding causing heavy eyelids to collapse. Classic eyelash extensions both help create comfort and can help you create an attractive beauty, the face also becomes sharper and lovelier.
Classic eyelash extensions do not cause harm to real eyelashes
In particular, the Classic Natural Lash Extensions method ensures no impact on real eyelashes. After false lashes fall out, real lashes remain intact in both length and thickness. Therefore, women can safely use this eyelash extension method many times without worrying about any harmful problems to their real eyelashes.
Compare Classic Lash Extensions and Volume Lash Extensions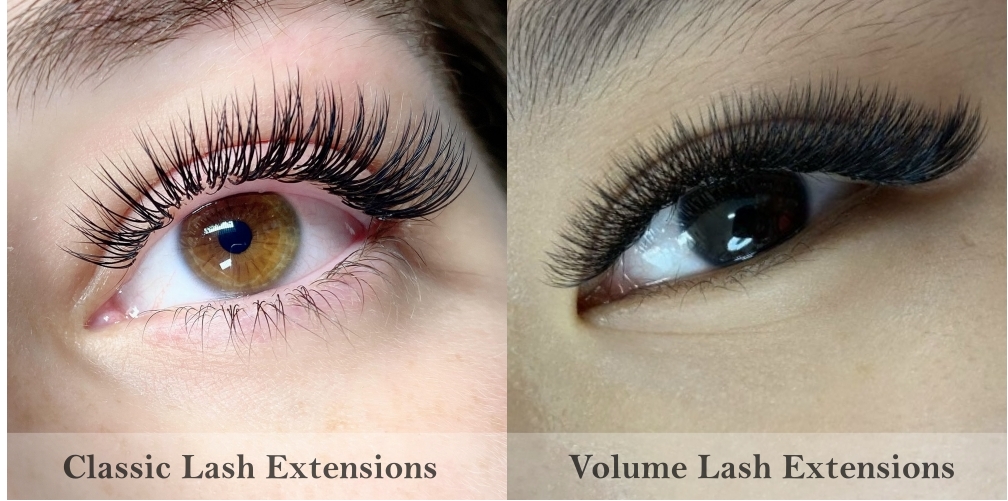 Classic Eyelash Extensions and Volume Eyelash Extensions are the two most popular eyelash extension methods today. There are many girls who are confused about which eyelash extension style to choose, so rely on the factors below to compare these 2 eyelash extension techniques:
Lash extension effect for eyes: Volume Lash Extensions are suitable for personality girls who want to own sharp and seductive eyes. And Natural Lash Extensions or Classic Lash Extensions will be very suitable for a girl who prefers a muse, gentle and feminine style.
Eyelash extension technique and thickness of eyelash extensions: Classic eyelash extensions are directly attached to each strand to the real eyelash leg, so classic lash extensions do not need to be too thin, if the thick classic lashes can still be done. Volume eyelash extension method is to attach multiple false lashes to one real eyelash leg, so the real lashes must be thin to ensure that the lashes do not feel heavy and uncomfortable.
Current true lash condition: If real lashes have moderate thickness, you can consider the Classic eyelash extension technique. And if the lashes are very thin and short but strong, you should choose the Volume lash extension technique.
The feeling of two eyelash extensions brings: Classic lash extensions bring a more pleasant and gentle feeling than Volume lash extensions.
Many people also compare Hybrid Lash Extensions and Classic Lash Extensions. Hybrid eyelash extensions are a hybrid eyelash extension method that combines classic lash extensions and volume lash extensions, so it provides thick, curvy, sharp lashes but still retains the natural beauty of real lashes. Therefore, this is also an eyelash extension technique that is used more by a variety of women, so the price is also higher. Therefore, depending on your preferences, personal style as well as financial conditions, you can choose the right eyelash extension for you.
How many types of classic lash extensions are there?
Currently, the classic eyelash extension technique has many sizes for you to choose from, including lash sizes from: number 8 – number 15. Depending on your needs and preferences, you choose the classic lash extension size that suits you.
In addition, classic lash extensions have various curvatures. For example, curve C is for those who like eyelashes with medium curvature, while curve D is suitable for those who like lashes with more curvature,…
Among the most popular classic lash extensions, lash size 11 is chosen by many women. Because lash size number 11 has a length suitable for any real eyelash shape of a woman, it makes your overall face look balanced, harmonious and lashes also look very natural.
What size should classic eyelash extensions be, how much lash thickness is beautiful?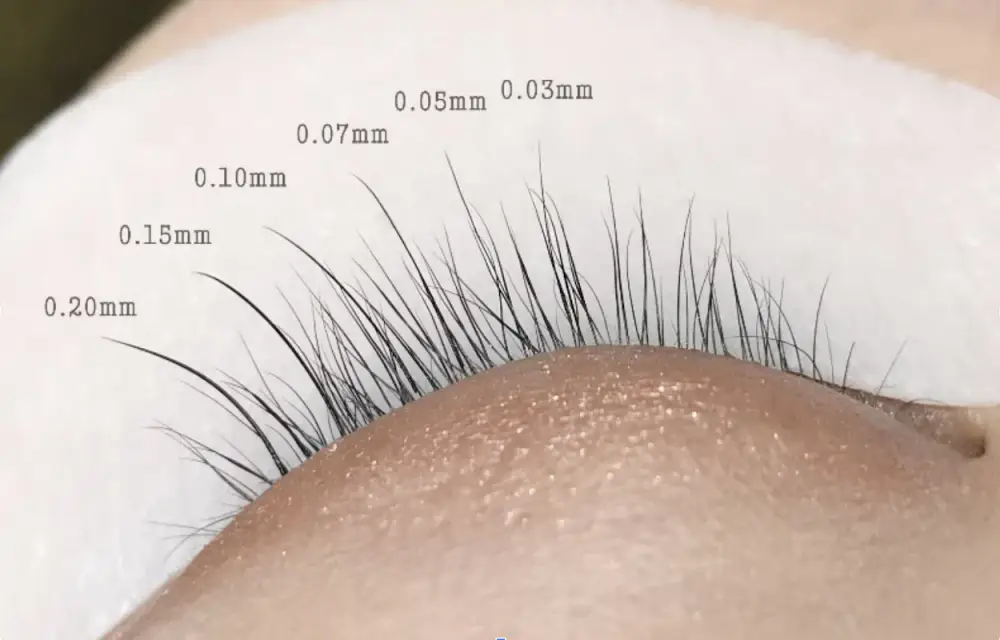 Choosing the right lash size for your lashes and eyelash extension style is not easy. If you don't know what size eyelash extensions to take? How much lash thickness is nice? Then let's determine what kind of eyelashes your current lash shape is to be able to choose the most suitable lash size:
If the lashes are naturally thick: You should choose silk lashes to help the lashes thicken a little but still ensure to retain the natural beauty of the real lashes.
If the lashes are very sparse and thin: You should choose microfiber eyelash extensions, light silk so that the eyelids do not become heavy, droopy or easily cause your thin and weak lashes to break.
If the lashes are soft and short: You should choose classic extension lashes in sizes 11 and 12.
If you prefer a black and bold eyelash extension: You should choose classic eyelash extensions with a thickness of 0.15 (classic lash extension size No. 15). This is a classic lash extension size that many European women love because it gives a strong, black, bold lash and looks very personal.
Customers often ask "which size classic lash should be chosen", eyelash extension specialists often recommend lash size numbers: 9, 10, 11 and 12. Because these are all lash sizes when attached to customers' real lashes, it will help the lashes look very natural, suitable for many women.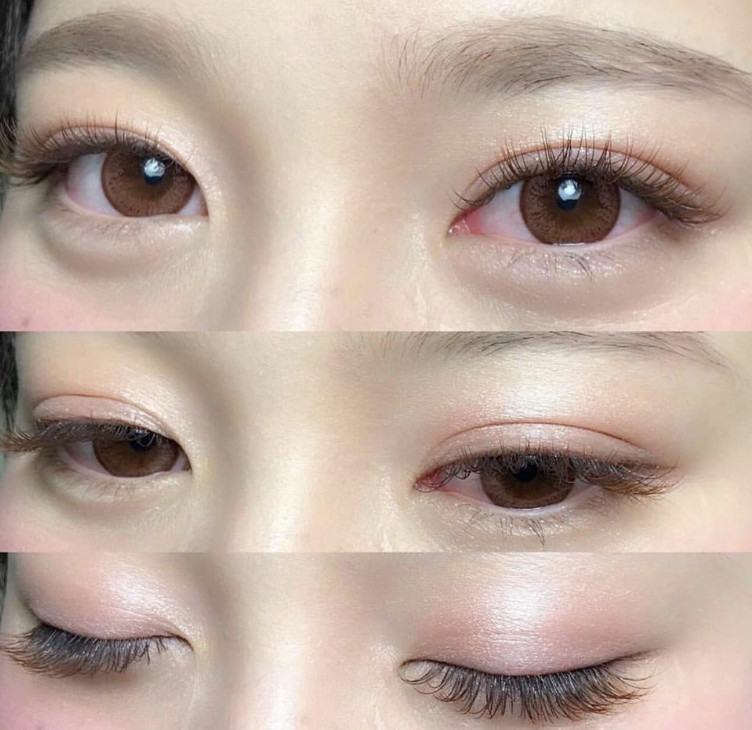 Perhaps, there is no one standard by which classic eyelash extension size is more beautiful. Women should base on their current real eyelash shape to make the most suitable choice.
– Classic lash extensions 0.10 thickness: will be great for weak, thin lashes, helping to provide natural and ultra-light lashes. However, when attaching 1: 1 with this classic lash will be quite long, you need to attach false lashes to the entire real lash to look darker and thicker.
– Classic lash extensions 0.12 thickness: suitable for customers who want slightly thicker and darker lashes than real ones. This type of lash extension is usually more time-saving than classic lash extensions with a thickness of 0.10.
– Classic lashes thickness 0.15: very suitable for customers who want Western, matte, bold, strong lashes. Eyelash extensions of this type are also faster than classic eyelash extensions with thicknesses of 0.10 and 0.12.
Instructions on how to extend the simplest and fastest classic eyelash extensions
The classic eyelash extensions process consists of four steps: choosing an eyelash size, cleaning, extensions and care instructions after classic eyelash extensions. This is a closed and methodical process and affects the quality of eyelash extensions, so it needs to be done correctly and enough. Any beauty salon, spa or eyelash extension shop must ensure the following 4 basic steps, in addition, there are some other steps depending on each eyelash extension facility.
Choose type of classic lash extensions and lash sizes
The eyelash extension technician considers the condition of the customer's real lashes and makes suggestions on what number of lash sizes to choose? The choice also depends on the requirements and preferences of the customer to ensure the best lashes.
Cleaning and preparing classic eyelash extensions
The eyelash extension technician performs a cleaning of the client's eyes and eyelashes before performing classic eyelash extensions to ensure the lashes and eyes are free of bacterial infections. The lash cleanser does not contain oil and alcohol to avoid affecting the eyes. The tools used for classic lash extensions are also thoroughly cleaned and sterilized. Customers are instructed to lie in the correct position and use additional eye protection.
Proceed with classic eyelash extensions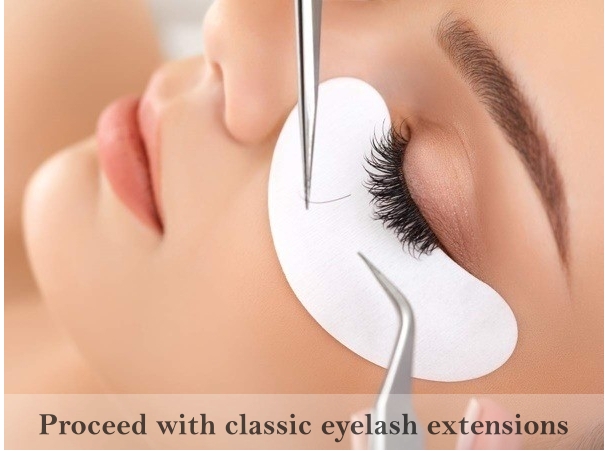 The classic eyelash technician will dip the false lash leg and gel, then attach it to the customer's real eyelash leg carefully. This stage lasts until the customer's requirements are met. Typically, a classic lash will have a maximum of 200 lashes, with a minimum of 80 lashes.
Classic eyelash extension technicians will guide customers to take care of classic eyelash extensions at home in the most complete and detailed way. Because this classic eyelash extension method is quite safe, does not penetrate directly into the skin, there is no need to take pills and does not require a long convalescent period.
How to care classic eyelash extensions at home is always beautiful and durable
Classic eyelash extensions after attaching need to be carefully cared for so that the lash extensions do not break, fall out. If you store according to the steps below, make sure to keep your classic eyelash extensions the longest, up to 3 months.
After 1 day of new classic eyelash extensions, clean the lashes with clean water
You need to wait a full 1 day for the gel to dry, holding the false lashes on the base of the lashes more firmly. The water used must be clean, below 35 degrees Celsius to avoid exfoliation of the gel and loss of newly attached eyelashes.
Use gentle eyelash comb every day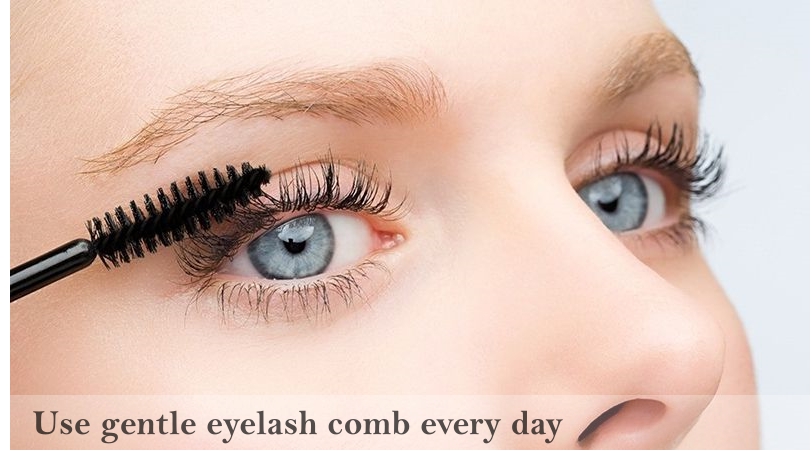 Every day you should use a specialized comb to brush eyelash extensions 2 to 3 times. This prevents eyelash extensions from getting tangled and sticking together, ensuring lash extensions are always as soft and natural as possible
Do not use oil-based cosmetics for eyelash extensions
Oil-containing products will cause lashes to fall out very quickly, the maintenance time of eyelash extensions is only from 0.5 to 1 month. Therefore, you should limit use of cosmetics with this ingredient on the eyes to ensure a longer use time.
It is not recommended to rub your eyes, lie on your stomach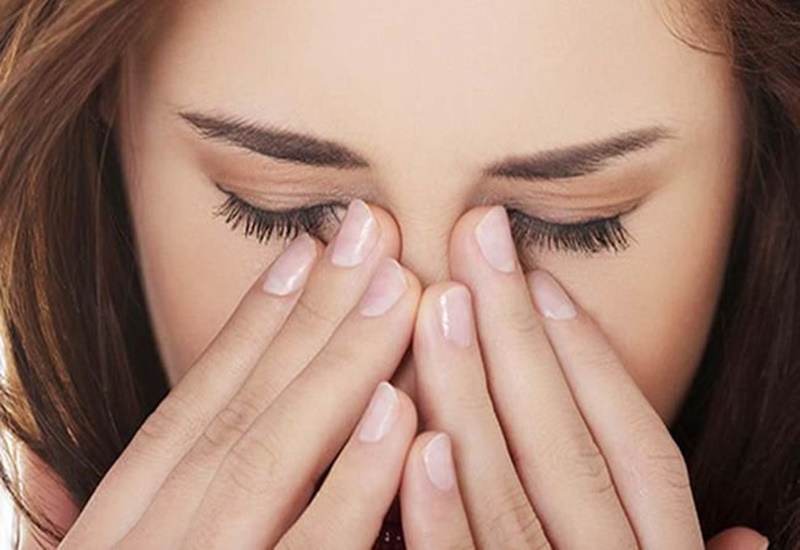 Rubbing your eyes is the quickest way for classic eyelashes to fall out, while also affecting real eyelashes. Lying on the stomach makes the lashes easy to break, without beautiful natural curvature, affecting the aesthetics of the whole lash.
Going out on the street should wear glasses
Limit your eyelash extension exposure to smog and direct sunlight. UV rays can affect the composition and structure of eyelashes, making lashes brittle and easily-breaking. The dust clinging to the eyes makes the eyes itchy, making it easy to feel like you want to rub the eyes to lose eyelashes.
How much do classic eyelash extensions cost?
The price of classic eyelash extensions depends on a lot of factors. If you choose an average eyelash extension facility, the cost of investing in classic eyelash extensions is less than $10. If you choose luxury eyelash extension facilities, the price will range from $ 10 – $ 35.
The price of eyelash extensions also depends on the number of false lashes used, such as:
80 – 100 lash extensions: 5$ – 15$.
110 – 140 lash extensions: 9$ – 17$
Over 140 lash extensions: from15$ and more.
KTV Lashes -The manufacturer of classic eyelash extensions, good quality, the cheapest price on the market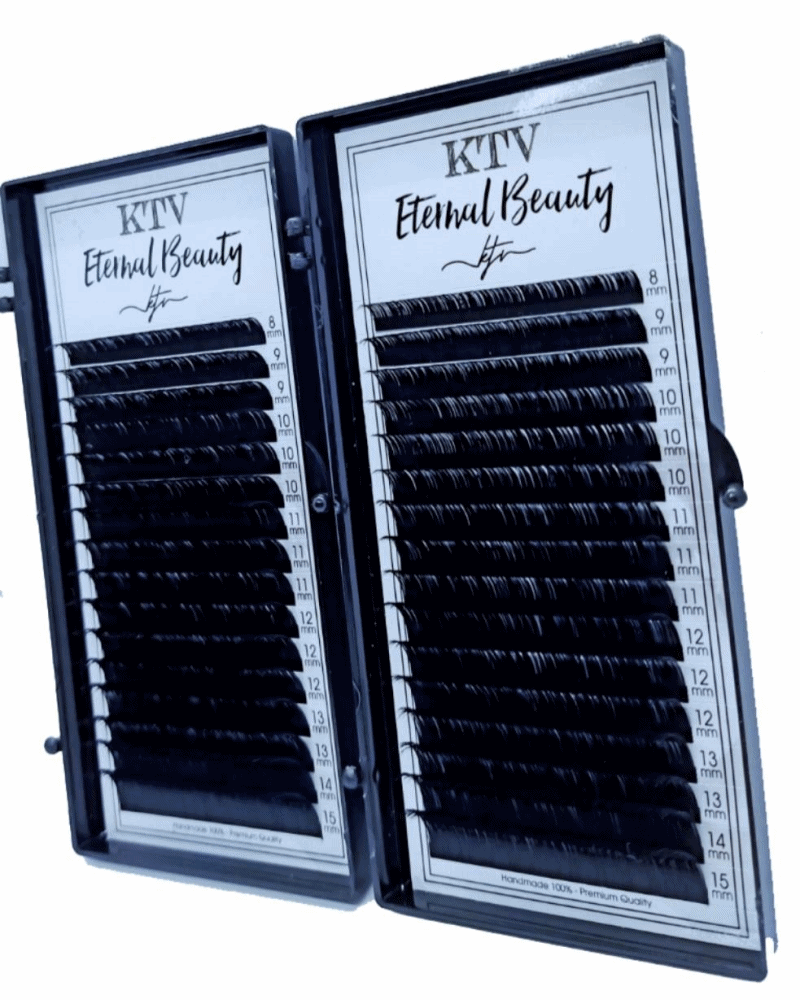 KTV Lashes factory has a team of experts with many years of experience in the field of manufacturing and supplying excellent quality false eyelashes at good prices in the world false eyelash market.
KTV Lashes creates a full range of pro-made classic lash sizes from number 9 – number 15, meeting all the needs of classic lash extensions of customers. The stock of lashes available at KTV Lashes is very large, ready to meet all beauty needs around the world.
The price list of classic eyelash extensions at KTV Lash Factory is very competitive, absolutely not higher than other production facilities. Customers or eyelash extension facilities will be clearly consulted on wholesale pricing policies and each type of eyelash extensions to consider choosing. Suppliers of promade eyelash extensions or processed directly according to customer requirements, ensuring to help partners and customers get the best products.
>>> You may be interested: Volume lash extensions
In short, classic eyelash extensions are the method to make your lashes look beautiful in the most natural way. This is the most popular eyelash extension style today recommended by many eyelash extension experts. Get a feel for your thick, naturally beautiful lashes every day with the classic eyelash extensions!
>>> Follow Fanpage Facebook: KTV Eyelash Manufacturer